›

›

›
Helping rare starts with finding rare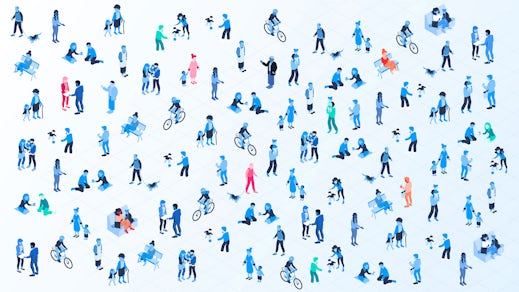 Rare
adjective
(of an event, situation, or condition) not occurring very often ref1
Rare disease
compound noun
any condition that affects fewer than one in 2,000 individuals* ref2
The word 'rare' is a bit misleading when it comes to disease. Conservative estimates suggest there are over 6,000 known rare diseases affecting approximately 300 million people worldwide.ref3 That's one in 17 of us.ref4 In other words, rare disease isn't all that rare. Widespread, chronically misunderstood, and often grave: Healthcare needs to work harder for rare.
With Rare Disease Day behind us, and #meetAda 02. Rare Disease coming up, we're focusing in on rare at Ada. We sat with Vanessa Lemarié, our Rare Disease Lead, to talk about challenges in rare disease and how AI health tools like Ada could help people get the answers they need faster.
The rare disease diagnostic challenge
"Rare is complicated," Vanessa explains, "and one of the greatest challenges for doctors is drawing that link between symptoms and the possibility of a rare disease in the first place."
Rare and common diseases often share symptoms that can be non-specific. "As primary care doctors always look for the most common causes of disease first, they – quite understandably – don't usually think of rare diseases in consultations. That means these diseases are often missed in the GP clinic." It's this initial link between symptoms and rare diseases that is so crucial to the rare disease journey.
The time taken to identify the link between symptoms and rare diseases causes delays in referral to specialist centers for diagnosis. "People with rare diseases face diagnostic odysseys that last, on average, five years and involve several doctors.ref5 These experiences can be bewildering, traumatic, and leave people feeling helpless." Vanessa continues, "Uneven distribution and inaccessibility of specialist centers in some parts of the world mean many people will go their whole lives without receiving the rare disease diagnosis they desperately need for adequate care."
Reducing the burden on people with rare disease and health systems
"Health systems are built to support as many people as possible while keeping costs under control. Since rare diseases are comparatively uncommon, they can't be a primary focus for national health systems." But taken together rare affects millions worldwide. Vanessa goes on, "The real burden of rare disease is underestimated. We need to focus on alleviating the personal strain that the rare disease diagnostic journey can cause. But we mustn't lose sight of the financial cost of incorrect or missing rare disease diagnosis." AI health tools like Ada have the potential to help address both.
The power in AI is the ability to check patient-reported symptoms against common and rare diseases at the same time. Vanessa explains, "Doctors are human at the end of the day. Simultaneously comparing common and rare is an impossible task for primary care doctors to take on – especially given their tight schedules."
This unique capability of AI tools like Ada could be vital to helping surface the suspicion of rare diseases earlier. "If we can persuade people to share Ada's medically grounded symptom assessment reports with their doctors, we can help ensure the possibility of a rare disease isn't missed."
Ada's work in rare disease
Making AI work for rare is a core aspect of our work at Ada. "By using AI to raise the suspicion of a rare disease early, we could speed up referral to specialist clinics for diagnosis. That could mean simplified rare disease journeys and a reduced burden on doctors and health systems." Vanessa goes on, "We need to develop AI with rare diseases in mind. At Ada, we collaborate with stakeholders across the health ecosystem to make this happen."
Keep an eye on Ada Editorial and our socials over the coming weeks. We'll be sharing more about rare at Ada, including a deep dive into our rare disease work with Vanessa.
*EU-specific definition of rare disease