›

›

›
Life at Ada: Jens Pahl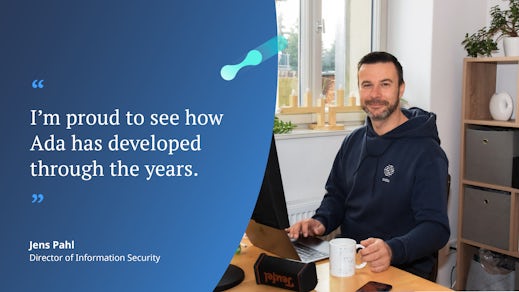 Life at Ada means making the world a little healthier every day, and leaving the world a little better than you found it. We'd like you to meet some of our colleagues and learn how they're improving health outcomes around the globe. And while you're here, check opportunities to join Ada. ✨
Jens Pahl, our Director of Information Security, shares how he's been organizing his time during the pandemic, what it was like to be the fourth employee at Ada 10 years ago, and important career advice he received as a child.
How are you taking care of yourself during the pandemic?
I add focus time to the calendar very early in the week, take a walk right before lunch, sit outside if possible, and keep my laptop closed after the business day is over. I also work out regularly, which in times of the pandemic means to go for a run or exercise at home. 
What impact have you made at Ada since you've joined?
I set up the basic infrastructure to turn our production systems into continuous deployable systems, and I integrated security measures to ensure information security 'by design' from the very beginning. I also implemented an Information Security Management System at Ada and certified our company in ISO 27001.
The most exciting part has been to see the company grow over the past 10 years. We began as a Berlin startup with 4 employees in medical software, which was still quite new at that time. Now, we're more than 200 people which is amazing from an inside perspective. I'm proud to see how Ada has developed through the years.
What's your favorite thing about working here?
The people. I mean, Ada has an impact on the wellbeing of people, that makes the challenges absolutely worth it. But the awesome people we meet during this journey is the most satisfying part. Once, I heard an engineer talking about a recent clinical validation study that found Ada has 99% condition coverage. Their first question was: "where's the missing percent?" That's the spirit.
What innovations are you most excited to see come to life in the next 5 years?
There will be significant progress in tools that monitor personal health. These will provide guidance on specific conditions, making medical assessment and treatment available to more people. Personally, I think there will be much more development in the direction of self-monitoring or self-documenting personal health.
What do you do when you're stuck on a challenge?
The first thing is to take a deep breath, step back a bit, and try to focus on the problem. Luckily for me, I work with excellent people, so finding a solution can be achieved by grabbing a coffee and speaking with a colleague.
What's the best career advice someone has given you?
The best career advice I've received so far is: don't do that. An electrician told me this when I was 10 years old, after I told him I wanted to be an electrician, like him. I ended up becoming an electrician, and after a while I thought "yeeees, he was right."
So I started studying electrical engineering, then business computing, and I became a software engineer working in a medical environment at Ada. Do I regret doing the apprenticeship in the first place? Never. I'm happy that I got the chance to educate myself further on a journey like this.
If you could have coffee with one great scientist from any time, who would it be?
If we say "from any time," this also includes the future, right? I'd love to meet the person who finds the cure for cancer. I'd like to thank them and tell them to please travel back in time to help more people. That'd be great.
The world would be a better place if everyone...
...could wake up without the pain or the condition that they've been coping with.
Jens has been part of Ada since the very early stages. His influence is shown not only in information security, but in our culture as a company. His guidance is incredibly valuable when it comes to creating secure products for millions of people.  
Considering using your skills to improve health outcomes? Check opportunities to join Ada.