Assess your COVID-19 risk status and learn about treatment options
Take this simple questionnaire to find out if you meet current criteria for being at high risk for progression to severe COVID-19, and whether you are eligible for oral antiviral treatment.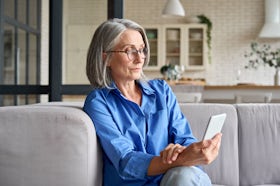 What are the benefits of this questionnaire?
Understand your risk status

This short questionnaire assesses your risk for progression to severe COVID-19.

Get personalized guidance and insights

Get information that's specific to your unique health needs, based on independent public health guidelines from the FDA, CDC, and NIH.

Secure and confidential

Since the start of Ada in 2016, we've been committed to building technology with the highest safety and security standards. No registration is required to complete this questionnaire.
How it works
Find out if you meet current criteria for high risk for progression to severe COVID-19 and if you may be eligible for treatment
Connect with a healthcare professional to learn more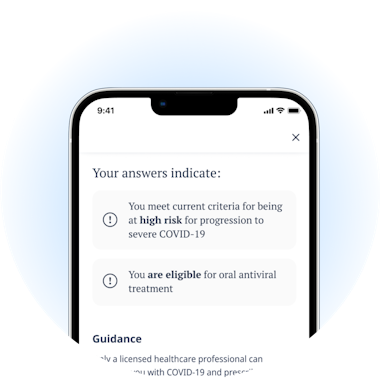 Great guided questions and self-reported symptoms to understand possible causes.
S. Kacherovich
Hi, we're Ada
We've been working hard to improve health outcomes since 2016. Built by doctors and scientists and powered by a 12 million-strong userbase, our medical AI simplifies healthcare journeys and helps people take care of themselves.
30,999,760
symptom assessments
The world's trusted partner for clinically driven AI.
Michal Stebnicki
Senior Medical Knowledge Engineer

Dr. Claire Novorol
Co-founder & Chief Medical Officer

Ewelina Türk
SVP Medical Product
Medical quality is in our DNA
There are no shortcuts to becoming a qualified doctor, and there are no shortcuts to developing an AI that raises the bar for clinical accuracy, user accessibility, and industry regulation.




Pfizer Inc. ("Pfizer"), which manufactures and sells an prescription oral antiviral treatment, has contracted with Ada Health Inc. ("Ada") for the development, hosting and operation of this questionnaire. This questionnaire is intended to educate individuals about whether they meet current criteria for high-risk for progression to severe COVID-19 and whether oral prescription medication for COVID-19 may be appropriate. This questionnaire is not intended to influence the choice of treatment for COVID-19, and Pfizer has not made or offered any payment to Ada to influence the referral of patients to any Pfizer product. All decisions regarding patient care must be made in consultation with a healthcare professional, considering the unique characteristics of the patient. The health information contained herein is provided for educational purposes only and is not intended to replace discussions with a healthcare professional.

Pfizer will not receive any personal information relating to respondents or any of your individual responses. Ada will share with Pfizer only aggregated information related to responses to this questionnaire.