Meet some of the doctors, scientists, and medical experts working at Ada.
Our in-house experts provide medical insight and oversight across product development, research, and online medical content.
Medical Leadership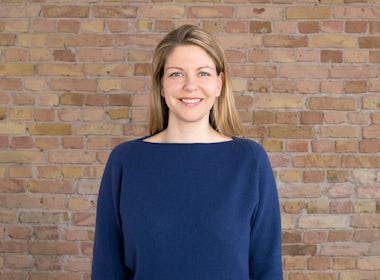 Co-founder & Chief Medical Officer
Dr. Claire Novorol
Co-founder & Chief Medical Officer
Dr. Claire Novorol
Claire is a trained medical doctor. She worked as a pediatrician in London before specializing in clinical genetics. She earned a degree in both pathology and medicine from the University of Bristol, and a PhD in neuroscience from the University of Cambridge. Claire oversees medical quality and our medical teams. She gives a voice to patients and healthcare professionals to make sure our products meet their needs.
Co-founder & Chief Scientific Advisor
Prof. Dr. Martin Hirsch
Co-founder & Chief Scientific Advisor
Prof. Dr. Martin Hirsch
Martin has a PhD in neuroscience and a diploma in Physiology. A medical researcher turned entrepreneur, Martin shifted from theory to innovation after publishing his work on nerve modeling in the scientific journal Nature. His first venture was a nerve modeling program that saved thousands of animals from lab testing. He developed the first version of Ada for doctors and continues to shape the way Ada learns today. Martin is a grandson of the celebrated Nobel Laureate Werner Heisenberg.
Clinical Governance

Dr. Shubhanan Upadhyay
Director of Medical Quality
Shubs is an urgent care GP for the NHS and a Clinical Entrepreneur Fellow (2018/19). He holds a Bachelor of Medicine and Bachelor of Surgery from Imperial College. His areas of expertise include global health, tropical medicine, and medical education. Shubs writes about global health, tropical medicine, medical education, and technology's capacity to support patient care and proactive health management.

Dr. Adel Baluch
Medical Director, Enterprise
Adel is an NHS doctor. He graduated from St. Bartholomew's and The Royal London School of Medicine and holds a Bachelor of Medicine and Bachelor of Surgery from Queen Mary University of London. Adel also holds postgraduate qualifications for the membership of the Royal College of Physicians, the Royal College of General Practitioners, and the American Board of Lifestyle Medicine.
Medical Knowledge

Ewelina Türk
Vice President of Medical AI
Ewelina is responsible for our core technology division that provides Ada's medical intelligence. Born in Poland but raised in Germany, Ewelina studied medicine at Charité, Berlin. Her main clinical interest is pediatrics, especially emergency and preventative care. Alongside her work at Ada, Ewelina is completing a doctorate in pediatric rheumatology
A small selection of the physicians within our Medical Knowledge Team:
Merret Eiling
Technical Product Owner for Medical Knowledge
Merret received her medical degree from Charité, Berlin. She started working at Ada in 2014, gaining expert insight into digital health and shaping how we create medical knowledge. Merret is passionate about digital health and the potential to support systems around the world.

Dr. Orianne Mazemondet
People Manager, Medical Knowledge
Orianne holds a PhD in computational biology from Rostock University, Germany. Her research focused on human signaling pathways and metabolism. Orianne also completed a master's in bioinformatics at Montpellier University, France, and carried out research stays in Denmark and Singapore.

Dr. Michal Stebnicki
Medical Knowledge Engineer
Michal studied medicine in Lodz and Wroclaw before receiving his medical degree from the Wroclaw Medical University Faculty of Medicine. Michal's main area of clinical interest is psychiatry, and he has clinical experience as a trainee and an assistant physician in Berlin clinics.

Dr. Chi-Yu Liu
Medical Knowledge Engineer
Chi-Yu practiced medicine in eastern Taiwan. His interest in promoting children's rights and welfare, especially in health, led him to pursue a master's in children's rights and childhood studies in Potsdam, Germany.

Dr. Yusuf Cem Kaplan
Medical Knowledge Engineer
Yusuf trained as a pharmacology specialist in Turkey and is a medical doctor. Before Ada, he was a professor of pharmacology and directed a teratology information and research center, supporting pregnant and breastfeeding women and their physicians. Yusuf's areas of clinical interest are poisonings and medication-related health problems.

Dr. Kirsten Gray
Medical Knowledge Engineer
Kirsten received her medical degree from the University of Otago in New Zealand, and during this time, she carried out research projects in psychiatry. After graduating, she worked as a hospital doctor for several years, with a clinical interest in psychiatry and pediatrics. Before joining Ada, Kirsten worked at the Starship Children's Hospital in Auckland.

Dr. Nisha Kini
Medical Knowledge Engineer
Nisha received her Bachelor of Medicine and Bachelor of Surgery from the Maharashtra University of Health Sciences. She also received her Master of Public Health in epidemiology and biostatistics from the University of Massachusetts Amherst. She worked as a resident medical officer in India, and then as a researcher in academia and industry in the United States and Europe. Nisha is passionate about AI in healthcare and the potential to help millions of people around the globe.

Nils Metzger
Medical Knowledge Engineer
Nils received his medical degree from Rheinische Friedrich-Wilhelms-Universität in Bonn. As a student assistant, he delivered patient care in the ICU and general ward of Universitätsklinikum Bonn and completed his internship in Berlin that focused on internal medicine and urology. During his studies, Nils contributed towards creating a database for people with epilepsy due to limbic encephalitis. Utilizing Ada's technology, Nils is excited to help improve people's lives worldwide.
Dr. Malek Hamzeh
Medical Knowledge Engineer
Malek was granted a scholarship to study medicine at Istanbul University in Turkey and graduated with a Doctor of Medicine degree. He worked as a family doctor at a community health center in Istanbul, where patients were mainly refugees without prior access to healthcare. Malek's particular interests are vaccinations and preventive medicine in primary care. He believes access to healthcare is everyone's right and is excited to join Ada in making that possible.

Dr. Carina Coltuneac
Medical Knowledge Engineer
Carina received her medical degree from University of Medicine and Pharmacy 'Gr. T. Popa' Iași. After graduating, she worked as an intern and gained clinical experience in nephrology at the 'C.I. Parhon' Hospital Iasi, Romania, and the CHR Orleans Hospital, France.

Victor Hertz
Medical Knowledge Engineer
Victor received his medical degree from Charité, Berlin. He started at Ada as a working student during his studies in 2013. Victor also completed a 2-month internship at Kathmandu Model Hospital, Nepal. His areas of clinical interest include radiology and tropical medicine.

Dr. Nicola D'Avino
Medical Knowledge Engineer
Nicola received his medical degree from the University of Naples Federico II, Italy. After graduating, he spent 1 year in Switzerland practicing in cardiology and emergency departments. Returning to Italy, Nicola continued working as a physician for 3 years in primary and emergency care. During that time, he also completed the family medicine specialty.

Nico Meißner
Medical Knowledge Engineer
Nico received his medical degree from Charité, Berlin. He began working at Ada in 2015 during his studies, driven by his passion for solving healthcare inequality. Nico's areas of clinical interest include neurology and emergency medicine. He is currently completing his doctoral thesis at Charité's stroke unit.
Dr. Vedika Kundi
Medical Knowledge Engineer
Vedika received her medical degree from Charles University, Prague. She held posts in several UK clinics working across a range of medical and surgical specialties. Vedika is currently completing a master's degree in global health at Charité, Berlin, focusing on the potential of digital health in low-resource settings. Vedika is passionate about preventative healthcare, large-scale health education, and reducing health inequality.

Daniel Glauert
Medical Knowledge Student
Daniel is a doctoral candidate at the Charité, Berlin, and one of our medical knowledge students. He has experience in the National Medical Students Association, the Humboldt-Universität parliament, and medical internships in developing countries. Daniel is interested in health politics and global health. He is committed to bringing the future of medicine to university curricula and is co-developing and teaching several classes on digital health.
Medical Content Management

Dr. Fabio Pereira
Medical Content Manager
Fabio studied medicine at the University of Porto, and he completed his medical studies with a master's in biomedical sciences and a focus in liaison psychiatry at the Charité, Berlin. Fábio is currently researching the relationship between sound and the body in his master's in sound research at Goldsmiths University, London.
Epidemiology & Public Health

Alicia Mehl
Epidemiologist
Alicia trained in the control of infectious diseases at the London School of Hygiene & Tropical Medicine and is an epidemiologist in our Epidemiology & Public Health Team. She brings diverse global health experience having worked in resource-limited settings, including Mozambique, Nigeria, and Saint Lucia. Alicia is interested in combining the power of AI and epidemiological methods to achieve better health outcomes for everyone.
Clinical Evaluation

Dr. Stephen Gilbert
Clinical Evaluation Director
Stephen graduated with a PhD in computational biology from the University of Leeds. He is a clinical studies specialist and physiologist. Stephen works within the medical devices sector in clinical assessment and evaluation, medical writing, and regulatory affairs. He has broad experience in cardiac physiology and medicine, including veterinary clinical experience, cardiac imaging, cardiac physiology, and modeling.
Dr. Jan Multmeier
Health Economics Scientist
Jan holds a diploma in psychology from Universität Bielefeld and a PhD in cognitive sciences from the Max Planck Institute for Human Development in Berlin. He spent his time as a doctoral student at the intersection of law, economics, and psychology to understand how people adapt to uncertainty and make smart decisions. He's a data scientist and medical statistician focusing on investigating how digital health changes healthcare for doctors, patients, payers, and providers.
Rare Diseases

Dr. Fiona Pick
Medical Director, Rare Diseases
Fiona has spent 19 years working as a doctor in the NHS. She specialized in pediatrics, and for the last 10 years has worked as a consultant clinical geneticist in London. Fiona has a PhD in medical research, specializing in the genetics of lymphatic disorders. As Medical Director, she has oversight of Ada's clinical governance operations, works closely on clinical evaluation projects, and provides clinical liaison for business development, global health, and rare disease initiatives. 
Product

Milan Jovanovic
Product Owner
Milan received his medical degree from Kragujevac University, Serbia. He went on to complete a master's degree in cellular and molecular biology at Coimbra University, Portugal, and a master's degree in medical neuroscience at Charité, Berlin.

Lee Stopak
Product Owner
Lee graduated in premedicine from The University of Maryland, specializing in neurobiology and genetics before completing his master's degree in medical neurosciences at Charité, Berlin. He's held several genetics research posts, including at the Weizmann Institute of Science in Israel.
Dr. med. Tamara Radakovic
Product Owner
Tamara received her medical degree from the Faculty of Medicine in Novi Sad, Serbia. She is passionate about innovation and technology in healthcare and has co-founded her own medical education startup. Tamara has extensive experience in the digital health industry and has worked at several medical AI companies in product development roles.