Consult SteadyMD, a telehealth provider to determine if an authorized COVID-19 oral antiviral treatment option is right for you
If you're 18 or older, a telehealth provider will assess your risk status and COVID-19 symptoms to determine if you are eligible for treatment

Consult with a telehealth provider in just 2 hours* starting at $18

Phone or video call consultation (options vary by state)

Treatments are made available at no charge **

(Pharmacy dispensing fees may apply)
These treatments are authorized to help reduce progression to severe COVID-19, including hospitalization or death.
Get started
Powered by

*Assessments are completed within 2 hours from 8am–8pm CT, 7 days a week. Requests out of hours will be completed by 10am CT the next day.
How it works
Create a SteadyMD account
Answer some questions about you and your health
A SteadyMD healthcare provider will review the health information you provide (starting at $18 out of pocket)
If prescribed, pick up your prescription at pharmacy of your choice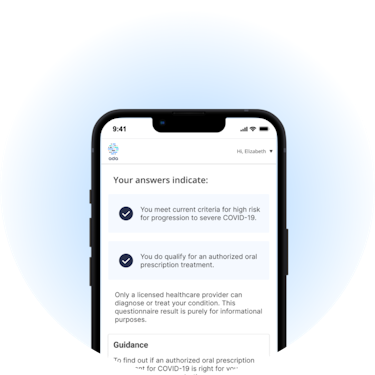 Great guided questions and self-reported symptoms to understand possible causes.
S. Kacherovich
Hi, we're Ada
We've been working hard to improve health outcomes since 2016. Built by doctors and scientists and powered by a 12 million-strong userbase, our medical AI simplifies healthcare journeys and helps people take care of themselves.
29,499,760
symptom assessments
The world's trusted partner for clinically driven AI.


Dr. Michal Stebnicki
Senior Medical Knowledge Engineer

Dr. Claire Novorol
Co-founder & Chief Medical Officer

Ewelina Türk
SVP Medical Product
Medical quality is in our DNA
There are no shortcuts to becoming a qualified doctor, and there are no shortcuts to developing an AI that raises the bar for clinical accuracy, user accessibility, and industry regulation.




** As part of the Emergency Use Authorization, the U.S. Government has purchased authorized COVID-19 prescription oral treatments and is making it available to patients at no charge. Other administrative fees may apply.