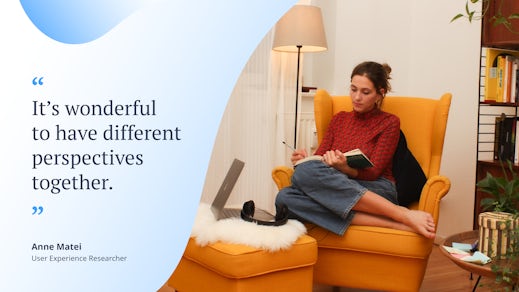 Life at Ada means making the world a little healthier every day, and leaving the world a little better than you found it. We'd like you to meet some of our colleagues and learn how they're improving health outcomes around the globe. And while you're here, check opportunities to join Ada. ✨
Anne Matei, one of our UX (user experience) researchers, shares which new rituals she's created during the pandemic, how the UXR Team is working on personas, and why French obstetrician Michel Odent is considered a revolutionary.
How are you taking care of yourself during the pandemic?
I developed some rituals. It took me a while to understand that the pandemic mood was going to last. At first it was a bit chaotic, but now I try to stick to some things. One of my rituals is to take a very short walk every morning before I even touch my computer. It helps me to get some oxygen into my brain.
Another nice thing was having a remote team breakfast, but recently we turned it into a yoga session. We play a yoga video at the same time, and then we discuss how it felt. It's been really nice because I didn't do that before. Now I even do it on my own during the weekend. That's really helped.
What impact have you made at Ada since you've joined?
I'd like to focus on our UXR Team. Our job is to better understand the people who use Ada to make sure our products are user-centered. We're working on defining our user personas. It's like trying to create characters out of our current user base. We look at data, we look at their feedback, we look at our own research and other studies. We can understand how, for example, different generations use health digital products, and what this means for Ada.
I think user personas can be really helpful for product teams, because when they design something they will have an image of who our users really are.
What's your favorite thing about working here?
Even though I love the product, and the industry is full of exciting opportunities and innovations, I still think that the people who work at Ada are most important for me.
I've always worked in multicultural environments – I've lived in India and in London – and I found this in Berlin too. My colleagues come from all over the world, and this is especially useful in user research. We have different cultures, and we think differently about health and healthcare systems. It's wonderful to have different perspectives together.
What innovations are you most excited to see come to life in the next 5 years?
There are signs from different studies that scientists could make cancer more manageable or preventable. It would be awesome if we could cure cancer.
I'm also interested in self-driving cars because I'm in the process of getting my licence, and it's been a hassle. Maybe in 10 years I won't even need to have a licence.
What do you do when you're stuck on a challenge?
I leave it alone for a bit and focus on something different. Running usually helps. Sometimes the solution comes when I'm doing something else. I try not to focus on it too much, and then the answer comes.
What's the best career advice someone has given you?
When I finished my studies, I felt the pressure to know exactly what kind of job I wanted to do. And it was difficult because the tech and product industry is constantly changing. So one of my past managers told me not to worry about following 1 path, or fitting into 1 box.
It's more important to create my own path and do what I'm passionate about. There are jobs now that didn't exist 5 years ago, and there are new job titles every day. My experience and my career have a great value.
If you could have coffee with a great scientist from any time, who would it be?
Michel Odent. He's a French surgeon and obstetrician who specializes in childbirth. He really stressed and evidenced how important it is to listen to women and their knowledge about their own bodies when giving birth.
In some ways we can say he's a controversial person because he introduced a new perspective – placing women at the center of childbirth, instead of focusing on medical procedures, healthcare systems, or even academia. I'd like to have coffee with him because I really like people who have innovative views. And he's revolutionary in a way, trying to change the way modern society sees birth.
The world would be a better place if everyone...
...had the same access to healthcare.
Anne has been working at Ada since January 2020. The insights she brings into our teams has made a difference in the way we design our product. It's a delight to work with her, especially because you can feel that she's passionate about making a positive social impact through Ada.
Considering using your skills to improve health outcomes? Check opportunities to join Ada.