Consider a healthier career
At Ada, your work could help millions of people, including yourself. Studies show that a higher sense of purpose is linked to a longer, healthier life.ref1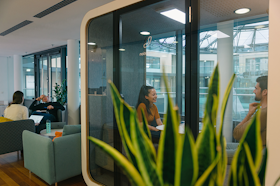 Our team under the microscope
One mission
Every person on earth deserves access to quality healthcare. At Ada, each member of the team brings their unique talents to the table to make that possible. We're passionate about what we do, and it shows. 
Multiple perspectives
As a team, we represent 54 nationalities and experience with health systems all over the world. Our diversity lets us build solutions that fit the needs of people and health organizations globally.
For better outcomes
In 2011, some of the brightest minds in medicine and computer engineering created a world-first AI health platform. We continue to raise the bar today, with an evidence-based approach that prioritizes medical quality and user experience.
Our values
Integrity
Do the right thing

Collaboration
Succeed as a team

Innovation
Build the future
Improving health starts from the inside
We offer a benefits package designed with your mental and physical health in mind.

Rungwe Hashim
Localization Manager (Swahili)


Vanessa Lemarié
Chief Client Officer
Meet the team
My favorite thing about working at Ada is the breadth and diversity of expertise.
Want to #joinAda?
Here's how it works
Apply for the right opportunity at Ada.
Meet our talent acquisition partner.
Speak with the hiring manager. You may need to complete a short task at this stage.
Meet the team and other stakeholders.
Pick up your welcome box and start your Ada journey.
Meet our Talent Acquisition Team

Ahmet Kivrak
Head of Talent Acquisition
Martin Forry
Team Lead Talent Acquisition Tech

Gizem Turan
Senior Talent Acquisition Partner

Sara Korycki
Senior Talent Acquisition Partner

Aleksandra Adamek
Talent Acquisition Partner
Mary Antonova
Talent Acquisition Partner

Adelina Bratanova
Talent Acquisition Coordinator

Melissa Aziz
Talent Acquisition Coordinator
---
Alimujiang, A., et al. JAMA Netw Open, (2019), doi: 10.1001/jamanetworkopen.2019.427.

Thayer, J. F., et al. Eur J Cardiovasc Prev Rehabil, (2010), doi: 10.1097/HJR.0b013e328336923a.

Oakman, J., et al. BMC Public Health, (2020), doi: 10.1186/s12889-020-09875-z. 

Powell, K. Nature, (2017), doi: 10.1038/nj7654-375a.

Henseke, G. Eur J Health Econ, (2018), doi: 10.1007/s10198-017-0867-9.

Warburton, D.E.R., et al. CMAJ, (2006), doi: 10.1503/cmaj.051351.

NIH. "8 Things to Know About Meditation for Health." Accessed 17 March 2021.

Hughes, T.F. Aging health, (2010), doi: 10.2217/ahe.09.89.

Umberson, D. & Montez, J.K. J Health Soc Behav, (2010), doi: 10.1177/0022146510383501.