Life at Ada: Georgios Maninis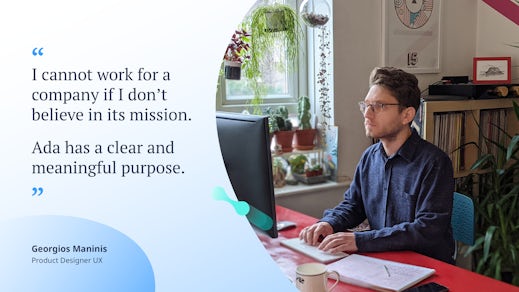 Life at Ada means making the world a little healthier every day, and leaving the world a little better than you found it. We'd like you to meet some of our colleagues and learn how they're improving health outcomes around the globe. And while you're here, check opportunities to join Ada. ✨
Our Product Designer Georgios Maninis shares the impact he's making through analytical thinking, an important tip when he faces a challenge, and his favorite thing about life at Ada.
How are you taking care of yourself during the pandemic?
Before the pandemic I wasn't working out much. Fitness wasn't a priority in my life. In the last few months I've been on a streak with regular workouts that can be done easily at home. It feels good and rewarding.
I also block my calendar for lunchtime breaks. The number of meetings has increased because of remote working and I can easily forget to take a break.
What impact have you made at Ada since you've joined?
Where suitable I try to challenge the status quo and the legacy of design decisions using evidence from qualitative and quantitative data. I aim for an outcome that better addresses our user expectations while satisfying our partners' needs.
I also use in-depth analytical thinking as I believe that product design has scientific foundations. I start with hypotheses and work my way towards resolving uncertainties in a project, while documenting all decisions on the way.
What's your favorite thing about working here?
The people. My colleagues are all very talented and nice people.
The mission. I cannot work for a company if I don't believe in its mission. Ada has a clear and meaningful purpose.
The focus on medical accuracy and data privacy. I appreciate that this is always at the core of what we do.
What innovations are you most excited to see come to life in the next 5 years?
I'm fascinated by new modes of transportation. If transportation like Hyperloop ever becomes available and affordable I'd definitely like to experience it.
What do you do when you're stuck on a challenge?
I literally sleep on it. Very often my brain is working while I'm sleeping. I know it doesn't sound very healthy but sometimes it is needed. When I wake up I face the challenge with a new perspective and ideas.
What's the best career advice someone has given you?
Always remember the value of your labor and try to enjoy the journey.
If you could have coffee with one great scientist from any time, who would it be?
Hmm… that's a difficult one. I'm not sure if he is considered a scientist in the true sense but I would love to have met Iannis Xenakis. He was a true polymath: a mathematician, an architect, and a composer. He was using maths to create architectural forms and music compositions.
The world would be a better place if everyone...
...tried to understand each other's perspective before we jump to quick conclusions.
Over the past year, Georgios has used his design skills to address one of the world's biggest challenges: access to healthcare.
Considering using your skills to improve health outcomes? Check opportunities to join Ada.