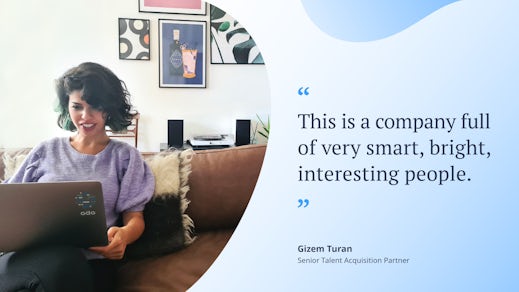 Life at Ada means making the world a little healthier every day and leaving the world a little better than you found it. We'd like you to meet some of our colleagues and learn how they're improving health outcomes around the globe. And while you're here, check opportunities to join Ada. ✨
Gizem Turan, our Senior Talent Acquisition Partner, shares what she looks for in candidates and her take on work-life balance.
How are you making an impact at Ada?
In my role at Ada, I'm making an impact by finding, attracting, and bringing in people who can work harmoniously as part of our team. We look for people who are passionate about global health and digitization and people who are eager and driven.
What are the 3 most important qualities to succeed as a talent acquisition manager in health technology?
Analytical ability to read people well is very important.
Communication skills and being a people person definitely help.
Being organized and self-driven enough to manage and move multiple processes further at the same time.
What do you enjoy most about life at Ada?
This is the question candidates ask me the most, and I always say our mission and purpose. It's what brought me here and one of the important things that keep me here. Ada is an industry-leading company that is striving to do good for many people out there. I think for me it would be very uninteresting at this point in life to work for a company that sells sneakers.
I also really enjoy the people I work with: my own team and the people I collaborate with. This is a company full of very smart, bright, interesting people who are still down-to-earth, friendly, and approachable. 
I also like that as a healthcare company, we value our people's mental and physical well-being and strive to ensure a good work-life balance.
How are you taking care of your physical and mental health lately?
I'm someone who likes to have a routine, and this has become even more important since the pandemic started. As a morning person, I start my day around 7 with some yoga and stretching whilst listening to Headspace meditations.
During lunch, I like to do a high-intensity workout or put on music and just jump. It sounds weird, but I guarantee if you try it, you will thank me for how great and energizing this actually feels.
I also try to eat healthily. For me, that means mostly plant-based food, lots of vegetables, fruit, and nuts. I follow a loose intermittent fasting routine, which means I like to eat a late breakfast and early dinner.
And when I am not working, I like to surround myself with people who are uplifting and who inspire me in various ways. As social creatures, we function best as part of a community and when we belong. I also enjoy different recreational activities such as music, tennis, billiards, and traveling.
What's the best career advice someone has given you?
The person who comes to mind is my Mom. Just before I graduated, she told me sometimes we need to tell the world who we are, what we do, what it is that we are good at, and what makes us special. She said humbleness is indeed a great quality but that there's a fine line between being humble and showing courage. And over the course of my adult life, I got to understand what she meant by 'fine line.'
If you could have coffee with a great scientist from any time, who would it be?
I know that social scientists are not regarded as scientists by many, but I don't agree with this. I studied sociology and psychology, and I'm fascinated by the human mind and psychology. So the first person who comes to mind is the British psychologist John Bowlby.
He came up with what is called attachment theory. This theory tells us about how we relate to each other as humans. Not only in a romantic way, but also with our family, friends, and colleagues. It's fascinating. I would love to have a good long conversation with him.
The world would be a better place if everyone____.
Communicated more consciously with each other.
Considering using your skills to improve health outcomes? Check opportunities to join Ada.