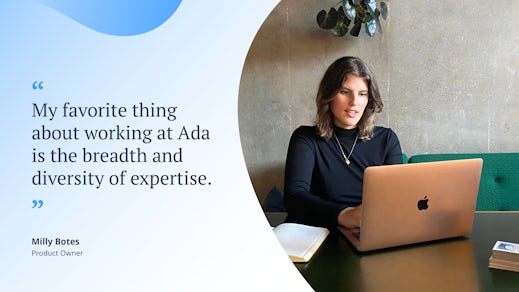 Life at Ada means making the world a little healthier every day, and leaving the world a little better than you found it. We'd like you to meet some of our colleagues and learn how they're improving health outcomes around the globe. And while you're here, check opportunities to join Ada. ✨
Milly Botes, our Product Owner for Connect, shares how she manages Slack notifications in the evening, what she's working on, and why transparency in healthcare is important.
How are you taking care of yourself during the pandemic?
It's very important for me to keep up my routines and structure wherever I'm working. In the past few months, that's included the Berlin office, a desk in a room at my parents' London home, and now a co-working space in Cape Town! This usually involves going out for coffee before I log on, making sure I take a walk at some point during the day, and wrapping up for the evening by setting my Slack status to away. 
Fun activities with friends, like group workouts on Zoom, have also helped. So have WhatsApp chats – as long as they don't become a hotbed for the latest lockdown conspiracy theories… tier 5 anyone?
What impact have you made at Ada since you've joined?
Since joining Ada, I helped structure the COVID-19 taskforce work, which included the COVID-19 screener and the Ada Labor Berlin lab assessment tool. I also supported work on company-wide strategic goals and a new operating model. 
And since October, I've moved into the product side of Ada. Now I'm the Product Owner for the Connect module. Since joining the team, we've launched our first product and have integrated with 2 global enterprise clients. Go #teamconnect!
What's your favorite thing about working here?
My favorite thing about working at Ada is the breadth and diversity of expertise. I could be talking to an epidemiologist, an AI scientist, a designer, and a software engineer within the same meeting. Beats a room full of career consultants any day (no insult to my former employer ;)).
What innovations are you most excited to see come to life in the next 5 years?
Keeping true to the product my team is building, I'm excited for increased transparency for the consumer with technological innovations. Healthcare can often seem like a black box. People don't know what they're entitled to, what services are available, which ones are applicable to their needs. I'm excited for a time when, if someone gets sick, they will have a clear idea of the most suitable, affordable, and convenient next steps to take.
What do you do when you're stuck on a challenge?
I'm a talker. To anyone and everyone around me. So usually when I'm stuck I'll reach out to someone on the team. I'm lucky to work with people who have a multidisciplinary skillset, so I can usually find the answers I'm looking for pretty quickly. 
What's the best career advice someone has given you?
The Chief Operating Officer of the alternative MBA program I went through recently said to me, once you've taken on a role, don't look around you. Just focus on absolutely nailing the role you're in now, then when you've done that you'll be ready to move on. 
If you could have coffee with a great scientist from any time, who would it be?
I would love to have coffee with Katherine Johnson, one of the most pioneering mathematicians/physicists of our time. As viewers of the movie Hidden Figures will know, Katherine Johnson and her calculations of orbital mechanics were critical to the success of NASA's first and subsequent US space flights. Her feats were ever the more impressive due to her being an African American woman in a very male and very white NASA environment at the time. 
The world would be a better place if everyone____.
Read the best intentions into people's Slack messages. ;)
Milly joined Ada just as we transitioned to working remotely during Berlin's first lockdown. As a product owner, Milly guides the smooth development of Connect, our care navigation solution, for health enterprise partners. Her ever-changing timezones are a testament to what can be achieved with a busy team while working remotely. 
Considering using your skills to improve health outcomes? Check opportunities to join Ada.