Life at Ada: Rungwe Hashim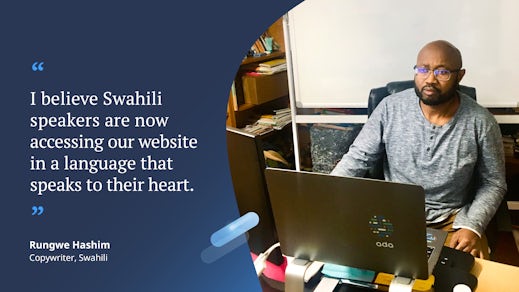 Life at Ada means making the world a little healthier every day, and leaving the world a little better than you found it. We'd like you to meet some of our colleagues and learn how they're improving health outcomes around the globe. And while you're here, check opportunities to join Ada. ✨
Rungwe Hashim, our Swahili copywriter, shares how he's staying active during the pandemic, his approach to connecting with our East African users, and an introduction to a remarkable character named Patricia Era Bath.
How are you taking care of yourself during the pandemic?
I'm always an active, health-conscious guy. The pandemic has forced me to look after myself even more. I usually go to bed early and get a night of good sleep to be productive the next day, except on weekends.
I split my 1-hour lunch break in 2, from which I set aside at least 30 minutes of jogging, rope jumping, and pushups. Then, I take a good shower and continue working. After dinner at 7pm, I take my 2-year-old child on a walk with a stroller, which generally puts him to sleep.
What impact have you made at Ada since you've joined?
Nelson Mandela, the first post-apartheid president of South Africa, once said: "If you talk to a man in a language he understands, that goes to his head. If you talk to him in his language, that goes to his heart."
Over the past year and a half, I've been responsible for Ada's Swahili content, which interacts with our East African audience and other Swahili speakers worldwide. My job has been to ensure Swahili remains consistent with our global brand voice. Shortly after I joined, I transcreated Ada's website from the brand's native English into Swahili.
I believe Swahili speakers are now accessing our website in a language that speaks to their heart. I also developed content guidelines that facilitate our content localization strategy for the East African market. I collaborate with our Growth Team to transcreate Facebook and Google ads into Swahili, helping Ada reach more people in the East African region.
What's your favorite thing about working here?
There are more than 50 nationalities at Ada, and that means you have a variety of cultures, languages, and experiences to learn from. Before the pandemic, when most of us could work from our elegant office building with a great view of Berlin, we met every month for Spicy Ada. We'd share a meal and taste unique spicy cuisine from each other's home countries.
The bond I've formed with my colleagues makes our work from home easier online during the pandemic.
What innovations are you most excited to see come to life in the next 5 years?
I saw something online called Black Box VR, a virtual sports training center that combines gaming and fitness to get people into shape. It's currently available in several US states.
I believe it could be a motivating way to get more people into the habit of exercising – particularly young people who are into video games. Its creators say it's addictive. If so, it's one of those acceptable addictions.
What do you do when you're stuck on a challenge?
I now know 'taking a hike' has been helpful to me. It usually happens during my 30-minute exercise session during the day. I could be, for example, jogging while thinking of how to solve a challenge.
Doing research and trying to understand better what the challenge requires also helps the situation. If it's a writing challenge, a combination of taking a hike and doing research usually does the trick.
What's the best career advice someone has given you?
The best career advice I got from reading Dr. Russ Harris's book The Confidence Gap. He says real confidence is not a lack of fear but a transformed relationship with it. He continued to elucidate how a "transformed relationship with fear" can be managed.
He also provides techniques that can be used to turn fear or stress into one's advantage. I came to rely on this philosophy professionally and personally when dealing with stressful situations.
If you could have coffee with a great scientist from any time, who would it be?
I would've liked to have coffee with Patricia Era Bath, an American ophthalmologist, inventor, humanitarian, and academic who died in 2019. She was an early explorer of laser cataract surgery, and she received a patent for that, among other medical patents.
Dr. Bath was the first African-American person to serve as a resident in ophthalmology at New York University and a surgeon at the UCLA Medical Center. Most importantly, she was all about improving the lives of her fellow human beings, as evident in her foundation of the non-profit American Institute for the Prevention of Blindness in Washington, D.C.
The world would be a better place if everyone...
...saw the best in others.
Rungwe has been working at Ada for almost 2 years. His experience and insights have been key in the development of Ada's voice in Swahili. I strongly relate to the bonding between colleagues that he talks about. Spicy Ada brought a lot of us closer, and it's one of the nice pre-pandemic memories that we share at Ada.
Considering using your skills to improve health outcomes? Check opportunities to join Ada.