Life at Ada: Vanessa Lemarié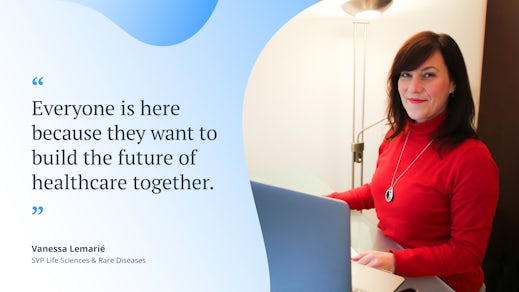 Life at Ada means making the world a little healthier every day, and leaving the world a little better than you found it. We'd like you to meet some of our colleagues and learn how they're improving health outcomes around the globe. And while you're here, check opportunities to join Ada. ✨
Vanessa Lemarié, our SVP of Life Sciences and Rare Diseases, shares how she's juggling life during the pandemic, how her pharma background helps her at Ada, and some fascinating facts about Marie Curie.
How are you taking care of yourself during the pandemic?
Being completely honest: insufficiently! Juggling work, family, childcare, household, and more in pandemic times has certainly taken more of a toll on my own wellbeing lately than I would have thought. Yet, admitting this to myself has been an important achievement.
Since the pandemic started, I've been walking my child to school. We both enjoy it, though he insists I let him walk alone once we're closer to the school gate so that he can be seen by his friends. I then continue on a 30-minute walk before I start my own work day.
I also finally got myself a standing desk. It makes such a difference! And I'm also cutting back on screentime late in the evening – it does help with sleep.
What impact have you made at Ada since you've joined?
Building on my experience in pharmaceuticals, I've successfully transferred into Ada some of the concepts on how to think and operate in the tightly regulated healthcare space. I am very happy about our increased outreach to the patient and scientific communities, flanked by some new research cooperations that I hope we get to talk about soon. This will help us generate necessary evidence for our solutions' impact and establish us as a trustable partner.
However, I am most proud of the team we've built. It's been great to work alongside our amazing colleagues in engaging with external partners – such as life science companies, healthcare professionals, and patient associations – to ensure Ada covers an ever wider number of conditions, including rare diseases, with increasing granularity. This helps increase Ada's accuracy even further, and gives users a better chance to receive the right diagnosis and appropriate care, quicker.
What's your favorite thing about working here?
Everyone is here because they want to build the future of healthcare together, and they see the potential of our solutions to help do this. It's an incredibly powerful common theme and motivator.
What innovations are you most excited to see come to life in the next 5 years?
Any innovation that helps people take control of their health, their lives, the world we live in. Innovation that is based on science and ethical evaluation.
What do you do when you're stuck on a challenge?
I try to take a step back and remind myself what was the real objective of taking on that challenge. Stop working for a moment, and instead taking a walk outside, or engaging in some other activity that takes my mind off of the task for a while. Often, this makes me realize I was overthinking, and I only need to do half of what I thought I had to.
When I am overwhelmed by the quantity or complexity of challenges, breaking them down into smaller pieces and tackling them one at a time is the next step.
Last but not least, asking for help from my team or another trusted person. Getting different points of view on the situation can surface different ways of thinking about a challenge, and this can actually help solve it.
What's the best career advice someone has given you?
"Be your own CEO."
Don't think someone else will give you what you need to succeed. Get and be mindful of diverse feedback and viewpoints. Treat your work and your career as your own responsibility, develop and hone your own style, work on whatever you do as if you had to run the very company that employs you, and only work for a company in which you feel you can make a significant positive impact.
And ultimately, build something that lasts.
If you could have coffee with one great scientist from any time, who would it be?
Marie Curie.
I've had a long-standing fascination with her ever since I read her biography at 14. She is obviously an outstanding physicist and chemist. I am not particularly strong in either subject matter, but I am intrigued by what kind of person she must have been.
Did you know that:
She led her research despite not having been admitted to university in Warsaw.
She earned the money for her first research by teaching at a girls' school.
She was denied the entry into the French Academy of Sciences in 1911 – even though she already had, not 1, but 2 Nobel Prizes, received in 1903 and 1911.
She was also vice president of a commission of the league of nations, doing research on the possible medicinal use of her discoveries.
Absolutely fascinating combination of humility and grit.
The world would be a better place if everyone...
...took themselves a bit less seriously, and instead listened more to their children, or also to their inner child.
Vanessa and I joined Ada on the same day, 15 months ago. To this day, I'm still inspired by her level of commitment to Ada's purpose. I admire her strong determination to have a positive impact on the lives of others.
Considering using your skills to improve health outcomes? Check opportunities to join Ada.