Meet Elba, our Spanish language copywriter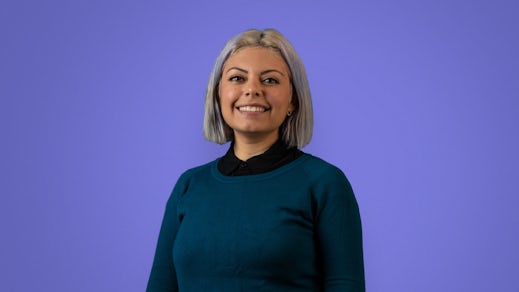 Elba was born in Guadalajara, Mexico, back in the 80s. She moved to Germany in 2012 and has been in Berlin for 3 years. She has a bachelor's degree in the science of communication and a professional background in customer success, technical writing, and training.
She is also a writer and a photographer, and lately, she's focused her creative work on Berlin, mental health, feminism, and immigration. She loves tacos, dogs, chocolate, techno, pre-Hispanic history, and anything related to space exploration.
Can you tell us a little about yourself?
My passion is writing. It's what I enjoy doing the most, and it's what I'm good at. This is why I decided to join Ada. I wanted to use my talent and writing skills to help Ada on its mission of increasing access to healthcare to everyone. I'm really excited to be here, and I can't wait to see what we'll achieve in the future.
What inspired you to join Ada?
Ada has the power to improve the lives of millions of people. Health shouldn't be a luxury. Everyone should have access to medical guidance. I believe in the product. I'm sure it can make an extremely positive change in our future, and I wanted to contribute to its success.
Did we make a good first impression?
You most certainly did! The entire interview process was smooth. The People & Workplace Team kept making sure that everything was clear to me, and the Ada box that we got in our onboarding had a nice personalized touch. Everyone was friendly and approachable. It feels nice to be part of a company that puts so much effort into giving a special experience for newcomers.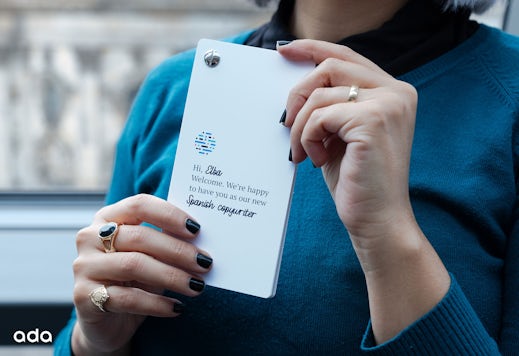 What were you most excited to do on your first day?
I visited the offices for the first time when I had my onsite interview. I couldn't believe the location, but when I got to see the view I was completely blown away. The Berliner Dom, or Berlin Cathedral, is one of my favorite buildings in the city. The office is right in front of it, on the 7th floor, with windows that go from the floor to the ceiling. So, to be completely honest, I had to know where my desk was going to be. Once they told me I couldn't believe it: this gorgeous construction is directly at my left side, only separated by glass and the air above the Spree. As you can probably tell, I'm still pretty excited about it.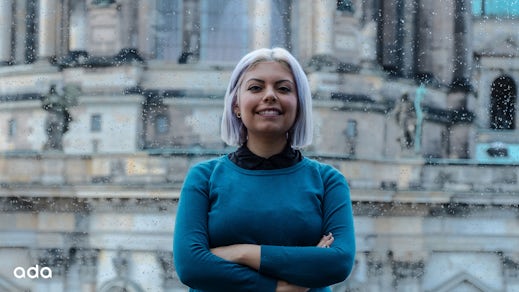 What happened in your first hours at Ada?
There were about 10 new people joining the company with me, and we had our onboarding session for the first half of the day. We got an introduction to the company, a brief but really interesting presentation about the reasoning technology, and a few more presentations from the people & workplace, global compliance & ethics, and communications teams.
What helped you feel comfortable?
Usually, the first day at any new job is a little bit overwhelming because of the amount of new information. Everyone made sure to take their time and explain everything to us. I also felt that we were really in a health company.
We had a presentation on how to stay healthy while we work in the office, including:
how to sit properly at our desks
a recommendation to use the standing desks
tips to protect our eyes from screens.
This whole experience made me feel like I was already being considered as an important part of the company. It's how every person should feel on their first day at a new job.
Thanks, Elba! It's good to have you here.
Keep reading. If you're imagining your own first day with us, check opportunities to join Ada. Learn more about how we can improve health outcomes together. Get to know more of our colleagues.