The Ada guide to settling in Berlin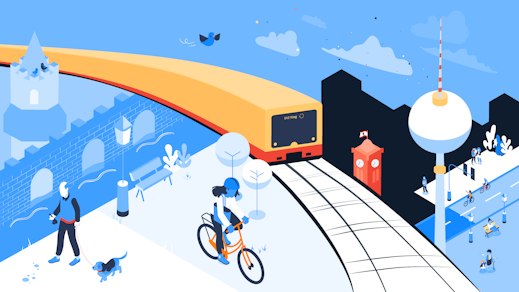 Did you decide to embark on a new adventure and move to Berlin? I moved here three months ago to join Ada and have some tips to share from my experiences and my colleagues who have lived here for decades. I can give advice on where to live, eat, and party, and how to get an Anmeldung, an apartment, and a winter-proof routine.
What to do before you get here
Besides packing some warm clothes for winter, you can also tick some other things from your to-do list. I created an N26 bank account just using my passport. And if you know your first temporary address in Berlin, you can order your card beforehand and have it sent to that address. Just remember to write your name, then "c/o" followed by the actual name(s) on the door to receive your mail.
Another thing you can decide on before you get here is health insurance. You will have to choose between public and private. My advice is to start with the public one because it's easy to switch to a private one later on, but it's very complicated the other way around.
How to get an apartment
The first and most pressing matter in Berlin is finding a place. Unfortunately, the time and energy required to achieve this shouldn't be underestimated. You need a confirmed German address so you can go to the Bürgeramt to get an Anmeldung – a mysterious word you'll hear a lot if you move here. It simply means registering your address in Germany. You'll need the Anmeldung document to get a tax ID for work. My colleagues warned me about the apartment hunt in Berlin. It does mean going to dozens of apartment viewings and often times, it's with many other people. It can be a bit competitive but don't get discouraged.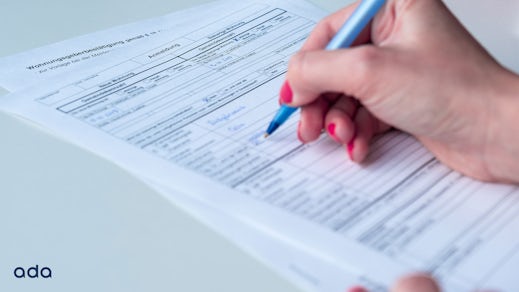 Something I found helpful was creating a folder with all my important information and then taking that folder with me to viewings. It should contain: passport copy, proof of income or proof of savings, a letter from your previous landlord to confirm that you don't have any rental debts, and a Schufa statement – a document that shows your credit score. Adding a photo of yourself and a personal note of introduction also really helps.
Here are a few pointers to help you avoid feeling discouraged:
Don't become attached to the apartments you haven't yet won.
Be friendly and try to connect with your future potential landlord.
Don't take rejection personally. Even if you've prepared the perfect folder, people will always go with their gut.
Be patient. Or try to get lucky and find a home through a friend, like me!
Ask your Ada colleagues. We have a Slack channel dedicated to these kinds of questions, and we're quick to help each other.
Where to live
So, you've prepared the apartment-searching folder but don't know which neighborhood to choose? What I really like about Berlin is the fact that each neighborhood feels like a different city, with its own atmosphere, restaurants, and bars. You may prefer one to the other, but the truth is, they're all beautiful in their own way. My advice is to walk around some of the neighborhoods and see where you feel most comfortable before committing to an apartment contract.
Due to the high demand in apartments over the past years, rent has increased. Everyone knows that Mitte and Prenzlauer Berg are the most expensive neighborhoods.
Mitte hosts most of the big historical attractions, and Prenzlauer Berg is famous for young, hip parents. Some say residential Charlottenburg is the heart of West-Berlin, but it's also a bit on the expensive side and more family-oriented.
More social people usually choose between Kreuzberg, Friedrichshain, or Neukölln. For affordable rent, you should also check out Wedding, which manages to keep both a neighborly feel and a multicultural vibe.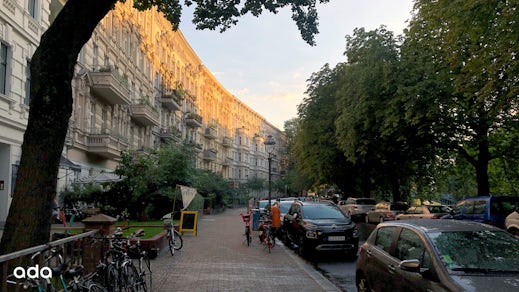 No matter which neighborhood you pick, don't forget to take into account your daily commute to work. My personal favorite? Prenzlauer Berg, with its old buildings and its elegant feeling. There's so much to discover in each neighborhood – no one can say they know everything about Berlin. It's nice that you can continue being a tourist here for years and years.
Where to eat
Even if you haven't found the apartment yet, you can still start getting excited about the food scene. In Berlin, you can find restaurants to satisfy all your cravings: Italian, Greek, Spanish, Indian, Mexican, you name it. My international Ada colleagues help me avoid the tourist traps and discover the hidden gems. The other day I found out from my Mexican colleague, Elba, where the best chilaquiles and enchiladas verdes are – Santa Maria and Ta'Cabrón Taqueria respectively.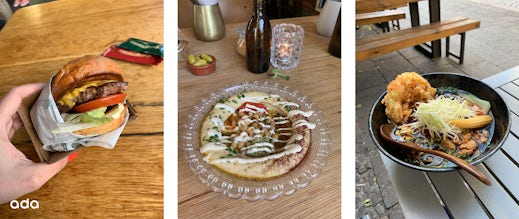 Food really brings people together at Ada. Where and what to eat are ongoing Slack discussions in our offices.
I don't want to brag here, but I will – I also have a food blog. I can say, hand on heart, that I've eaten some of the best sushi in my life and the best Thai curry here in Berlin. I have so many restaurants on my list that I can't imagine ever checking everything off.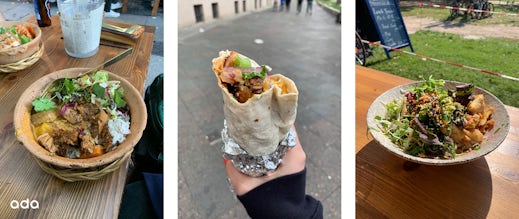 Kreuzberg offers some good affordable restaurants, particularly Turkish options. Some of my favorite restaurants are in Prenzlauer Berg, like Omoni and Takumi Nine – a little more on the expensive side but absolutely worth it. This is my way of discovering Berlin: one bite at a time.
Another tip: get your vegetables from the Turkish farmers' markets. Everything is much cheaper, fresher, and tastes better. And, if you go towards the end of the day, you can get some good deals because people are preparing to go home. The most famous farmers' market is the one at Maybachufer – open on Tuesdays and Fridays. I really love that one. There are also other markets in Friedrichshain, Charlottenburg, Schöneberg, Prenzlauer Berg, and Mitte. You can go to most of them for a quick bite as well, like a crêpe or gözleme.
Where to party
I've never been much of a party animal, but we do have a few experts in this field around the office. Most people come to Berlin for the techno scene, and one of the most famous clubs in the world: Berghain. But, that's just the tip of the iceberg. For aficionados, there's also Club der Visionaere, Tresor, and Watergate.
If you like bars more than clubs, then you should go out around Schlesisches Tor or Kottbusser Tor – 'Schlesi' and 'Kotti' for regulars. I can also tell you the neighborhoods where you'll sleep the best: Charlottenburg, Schöneberg, and Wilmersdorf. No partying until the wee hours there.
Personally, I'm more interested in concerts, and I'm happy that artists choose Berlin as a stop in their tours. In summer, I enjoy something more low-key, like drinking wine around the canal. You can lie on the grass and watch the swans, or sit on Admiralbrücke with a beer from the Späti.
What to expect from winter
My Spanish colleagues say the hardest thing to adapt to in Berlin is the weather. I have yet to find out, but I hope it's easier if you're not coming from a year-round sunny country. I already bought the fluffiest winter jacket in my life and can't wait to use it.
What's nice here is that people seem to bike to work even during the winter. Be prepared to live under a grey sky for months. Stock up on vitamins, especially vitamin D, and comedies to keep your spirits high.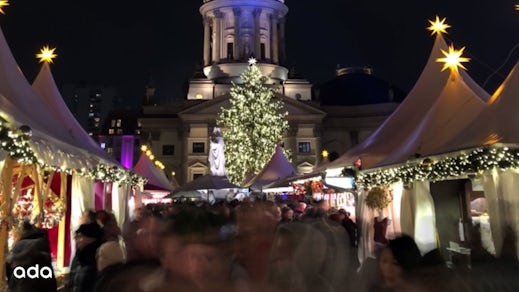 Berliners love Christmas. There will be dozens of nice Christmas markets offering traditional food and Glühwein. The one in Gendarmenmarkt attracts a lot of tourists in November and December, because this place is beautiful and it's in Mitte. You can also go to the Christmas markets in Potsdamer Platz or Charlottenburg, if you want to go to other famous ones.
How to learn German
I saved this for last. This is controversial, but some would say living in Berlin means you don't actually need to learn German. Most Germans you'll come in contact with will probably know English and at Ada, everybody speaks English. If you like Spanish, you should know that lately I've been hearing a lot of Spanish being spoken around the office. I understand everything in Spanish and almost nothing in German. That's my level. But, I'll soon join the free weekly German classes taking place right here in the office. We have a class for beginners, one for intermediate, and one for advanced. So no need to worry, you'll be ready to bestellen and bezahlen in no time, at any bar or restaurant in Berlin. Join Ada, and I'll see you in class!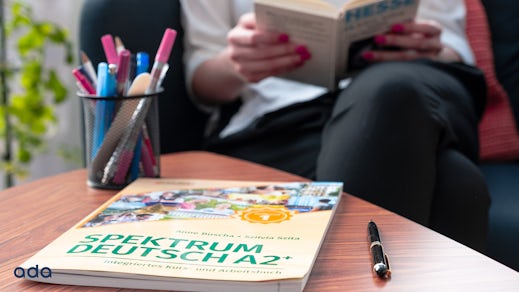 I hope this helps you feel prepared and excited to move to Berlin. If you need more details visit All About Berlin or Settle in Berlin.
However, all the tips and preparation in the world can hardly equal finding a job that doesn't feel like a job and meeting colleagues who will become your friends. I know it sounds too good to be true, but it happened to me. So if you're looking for the same thing, check out exciting opportunities to join Ada. Fingers crossed!