Coding new beginnings in Berlin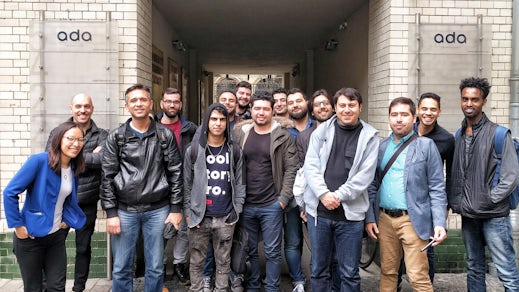 Every year, 48,000 people move to Berlin.1 They come from around the globe for the city's infamous history, impressive cultural institutions, and exciting opportunities to work in technology. Berlin is now home to one of the largest immigrant populations in the European Union. An increasing number of new Berliners arrive seeking refuge from humanitarian disasters and a fresh start.
The state of Berlin partnered with some of the city's technology companies to help ease the integration process for these groups, offering social and economic support programs.
In 2017, we worked with the Digital Career Institute to host a program called Devugees. Run by a team of entrepreneurs, employees, and freelancers, Devugees offers mentorship, coding training, and professional networking to help refugees get off to a good start in Berlin.
As part of the program, students visit technology companies around the city to get a feel for what it's like to work there, see firsthand what they can do with their new skills, and start building professional networks.
We were one of the last companies that Devugees visited on their tour. After 2 hours, product manager Valentin and software engineer David shared their ideas on team management and coding techniques. Devugees students offered new perspectives and ideas about how we could help more people around the world.
Programs like Devugees are an important reminder of technology's power to change lives at a global and an individual level. Sometimes, a helping hand can be just as valuable as developing the next innovation.
Keep reading. Check opportunities to work with us. Meet Gobie, our user interface engineer. Read Celia's tips for settling in Berlin.