Meet Gobie, our new User Interface Engineer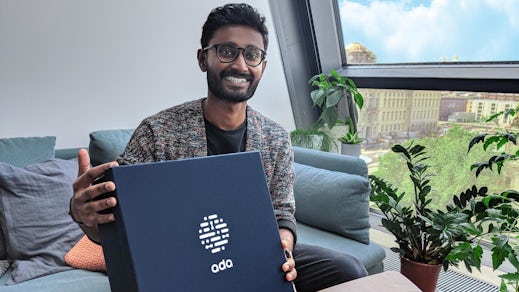 We'd like to introduce you to Gobie, our User Interface Engineer. He likes to create things, whether that's programming, designing, or woodworking. But being productive all of the time can be exhausting. To balance this, he plays games with his friends, reads good books, practices the piano, listens to podcasts, and tries to go to the gym at least 3 times a week.
Let's take a look at why Gobie decided to join Ada.
What inspired you to join us?
I was thinking about how I can make the world a better place. To be honest, at first, giving children the opportunity to learn how to read seemed to be the best way for me to help. So, I started donating money to a charity for children in conflict areas to help them go to school. Donating money was definitely something I could do!
In the meantime, as I was looking for a new way to take my frontend skills to the next level, I came across Ada. The mission to give everyone access to the healthcare they need is so honorable and beautiful to me. I couldn't help but join the team and use my time and skills to achieve that mission.
Did we make a good first impression?
Yeah, it was pretty exciting to arrive. To get a good start, I prepared myself the night before. I wrote down some topics I wanted to talk about, information about Ada, and how to overcome my sometimes socially awkward behavior. To my surprise that really helped. My first day was great, and I talked to a lot of new people.
What were you most excited to do on your first day?
Meeting my new team and getting to know all the smart people at Ada. Also, getting myself into a new environment and being part of this big movement.
What happened in your first hours at Ada?
In the onboarding room, there were boxes for all the newcomers with the Ada logo. Inside the box, there was a super fancy glass bottle, a notebook, a sweater, even bandaids.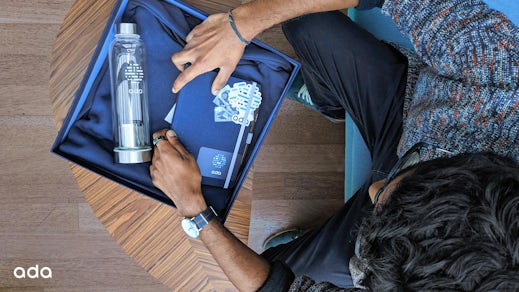 The onboarding session took nearly 4 hours but the time was kinda flying. There were different talks from different people at Ada. It started with Daniel, one of Ada's co-founders, talking about the current situation in healthcare around the world and his vision for the next 10 years.
Then it moved to data security, internal tools, and the different facilities at Ada. I got the impression that data security is really the number 1 priority.
At the end of onboarding, all the newcomers got a shiny new MacBook. Then we all had to do several workshops about data security, safety at work, diversity, and anti-discrimination.I think the first day is always a little bit overwhelming because there are so many new things to learn. But the onboarding session gave me a good start.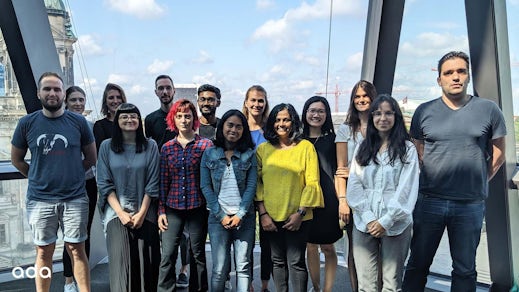 What helped you feel comfortable?
The fact that I can just go and talk to everyone in person and not just by email or Slack is definitely a plus for me. After the onboarding, I went to lunch to meet the team. I know they are kinda my supervisors but while talking to them, it didn't feel like that at all.
There was also this one guy who saw me waiting for my office keys, Shubs. He could see I was a newcomer and asked me to come over to have a chat while I was waiting for the keys. From the beginning, I felt I was part of the Ada team.
Thanks, Gobie! It's good to have you here.
Keep reading. If you're imagining your own first day with us, check opportunities to join Ada. Learn more about how we can improve health outcomes together. Get to know more of our colleagues.