›

›

›
Back to the future of Ada with Henry Hoffmann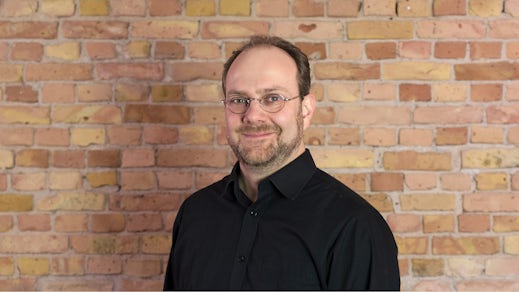 In 2011, Ada was a simple prototype – a twinkle in the eye of our Director of Research, Henry Hoffmann. At two weeks old, Ada was already able to understand and identify hundreds of diseases. In the almost eight years since, Henry helped raise Ada through multiple iterations, developing ever more sophisticated medical reasoning, into the super-powerful AI health guide known and loved by millions around the world today. Henry shared this backstory and his mind-boggling predictions for the future of AI in healthcare.
Can you take us back to the beginning? How you started at Ada?
Inspired by our successful creation of an associative search engine based on constellatory logic, we applied this concept to a prototype for medicine that could potentially revolutionize diagnostic reasoning. This approach helped us move beyond a simple list of symptoms to map out the pattern of how diseases develop in individuals. Our eventual AI framework transcended the one-size-fits-all approach of medicine to reach a deeply personal understanding of an individual's health.
Your background is in computer engineering. How did you adapt this to healthtech?
Yes, I studied computer engineering in Berlin, which had nothing to do with medicine. Medicine is a special domain. It was a bit of a culture shock. In my first year working on the Ada prototype, I went from knowing very little about medicine to learning quite a lot. Listening to medical lectures helped me get to the point where I could understand whether the AI was getting better.
In engineering, everything is built by humans, so we can understand how it works and how to fix it. To some extent, it's a closed world. Medicine is about the most complex thing in the known universe, and unfortunately, we were not given a handbook. There are no two identical humans: just as we look different on the outside, we each look different on the inside as well.
How do you bring computer engineering and medicine together at Ada?
The one-size-fits-all model that has dominated much of medicine for thousands of years has not always worked for everyone, but there was no viable alternative. Doctors didn't have enough time to apply an individual approach to medicine with each of their patients. So, we used computer engineering to develop advanced AI technology that can understand individual bodies down to the bio-molecular level.
Ada's AI is created on this paradigm shift: a human doctor knows how a certain disease will generally develop in the average patient, but based on the data an individual shares over time and machine learning, Ada knows how a disease is likely to develop in that specific person. We've brought computer engineering and medicine together in Ada to create a deeper, more holistic understanding of an individual's health. For example, we know from medical imaging that some people have one main artery to the kidney, others have multiple arteries. With this deeper knowledge of an individual, we can develop a more precise assessment of the potential for kidney disease.
What are three areas of health research that interest you at the moment?
The first is further research into deeply personalized models for diagnostic reasoning and decision support that reflect a better understanding of each individual's health.
The second is building technology that makes sense of all the information people share with Ada – from genetics and wearables to imaging and laboratory results – and how this all helps to keep an individual healthy.
The third is the increasing importance NLP (natural language processing) will have on the future of knowledge aggregation in health tech.
How do you stay healthy?
Having a young son can make it a challenge to prioritize my own health on top of a busy work schedule, but my favorite way to stay active is to play location-based games such as Geocaching and Ingress. They're a good way to keep moving around outside – I walked more than 3,400km with Ingress over the last three years.
What's your favorite thing about working at Ada?
There are so many things: working with a motivated, skilled team from all over the world that shares the same vision of changing the future of healthcare; creating technology that actually saves lives, or even stops people from getting seriously sick in the first place; and reading how Ada is helping people in our user feedback.
Each of us have a couple of decades left in our careers before we can really make an impact. I started working on Ada eight years ago, and it's really nice to reach this point. I'm excited to see what we will be able to achieve in the next eight years.