Shaping the AI conversation
The conversation around AI shows no sign of slowing down, and as established players in healthcare AI - with over a decade of experience - we're delighted to see so many people across the world get involved with the technology and explore its potential. 
At Ada, we've been shaping medical AI for over a decade with the aim of improving people's health by transforming knowledge into better outcomes. As we continue to advocate for innovation and the growth of safe, accurate, and regulated medical AI, we wanted to outline some insights our own experts have been sharing over the past few weeks in conversations with our peers in the business, healthcare, and research communities. 
Talking AI on-stage
Recently, our Chief Operating Officer Vanessa Lemarié, our Head of AI Peter Engerer, and other team members attended Tech Open Air Berlin, a festival of tech and innovation held in our home city. 
In front of a keen audience of AI experts and innovators, Vanessa spoke with journalist Paul Jäger about separating the hype from the reality around AI in healthcare, how we've built the AI technology underlying Ada, how we use and benchmark AI, and what's next for the technology.
In particular, Vanessa discussed how AI, including Ada, is currently being used across healthcare - streamlining patient journeys, relieving some of the burden on clinicians, supporting clinical handovers, and supporting digital triage and quicker access to the right care.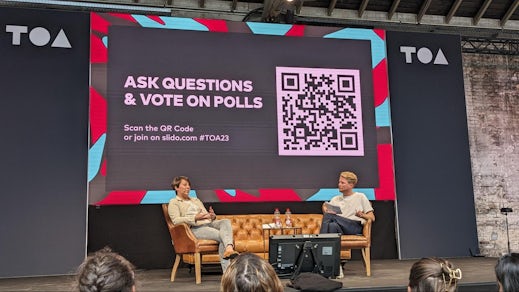 Paul and Vanessa also talked about the limitations of AI, and why AI will not replace human doctors. Our prediction is that instead, healthcare professionals who use AI will replace those who don't, and healthcare consumers who use AI will have more informed conversations with healthcare professionals, when needed, more quickly.
AI that is medically validated and appropriately regulated, like Ada, can also make high-quality, personalized healthcare information available to everyone, enabling active and informed healthcare decisions.
We're focused on innovation at Ada, and our team is united by the desire to push the boundaries of technology and turn theory into practice - something we share with our investors Leaps by Bayer. So we were happy to join the Leaps team at Tech Open Air to take on their new research-themed escape game, "Breaking Through Impossible." Vanessa, Peter, and Paul, alongside Ada's Senior Machine Learning Engineer Valerio Morelli and Data Science Lead Osvaldo Anacleto (pictured below), were challenged to "save the world in 30 minutes". For the record, the world was saved - just in time…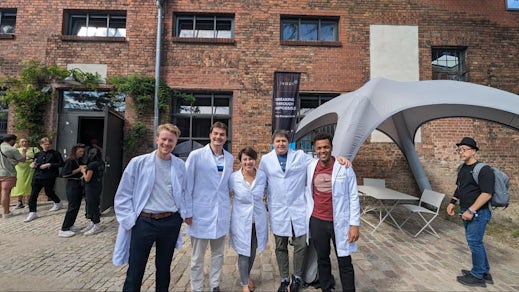 Regulation of generative AI in healthcare 
Also this month, our expert advisors, Dr. Paul Wicks and Professor Stephen Gilbert co-authored a paper alongside scientific and regulatory experts from Trinity College Dublin, Axon Lawyers (Amsterdam), and digital health consultancy Hardian Health, which was published in the major healthcare research journal Nature Medicine.
The paper "Large Language Models Require Approval as Medical Devices" explores the use cases and benefits - as well as the limitations - of generative AI for patient care, paying specific attention to the requirements of regulators on software as a medical device. The authors argue that LLM AI chatbots used for patient care should comply with the same standards put on other software as a medical device. Yet the inherent unreliability of today's LLM AI chatbots currently precludes their approval for use for patient care from regulators. 
While the potential of new generative AI platforms such as ChatGPT is immense, they currently still have serious flaws, and the authors conclude that "the huge efforts applied to training LLMs for creativity and plausibility should now be applied to providing evidence of safety and validation in medicine." 
At Ada, we're proud to be a regulated medical device and strive to ensure that our AI meets the strictest safety and accuracy standards - becoming one of the first AI tools of its kind to be certified as a class IIa-regulated medical device in the EU this year.
Focusing on safe, trustworthy, and accurate AI
We're thrilled that so many people recognize the potential of AI to transform lives and revolutionize healthcare for billions. We're looking forward to being a part of this global discussion and sharing our expertise wherever we can, and we'll want to contribute to separating hype from reality.
Our priority at Ada remains to provide users, patients, and clinicians access to safe, trustworthy, and accurate medical AI that improves patient outcomes.
Earlier this year Peter Engerer, alongside our co-founder and Chief Medical Officer Claire Novorol and Valerio Morelli, co-authored a blog for Ada outlining the work we carry out to improve our AI and how it's different to LLMs like ChatGPT - you can find this article here.
As the evolution of  LLMs continues, here at Ada we're also continuing to explore their potential uses within the framework of safe, trustworthy, and accurate AI.  
Look out for future blog posts for more updates on how we're leveraging the latest AI developments to help improve healthcare safety, efficiency, experiences, and outcomes.