Streamlining primary care for patients and empowering clinicians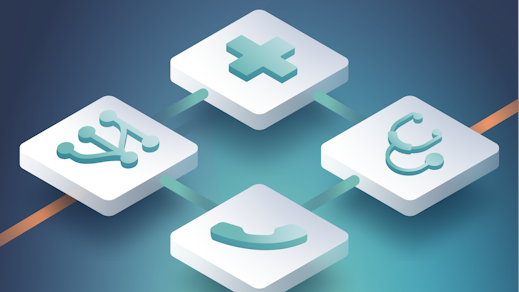 As health systems strive to deliver sustainable, high-quality primary care, we examine the impact of medically rigorous and safe AI symptom assessment and care navigation technology to deliver the right care in the most appropriate setting. 
Primary care is the entry point for millions of people seeking care each year. But while patient access to appointments with NHS general practitioners (GP) - or primary care physicians (PCP) in the US - has risen to record levels, sadly, both patients' satisfaction with the quality of their care and care team morale across primary care has rarely been lower.
Medical and care professionals working within primary care are exhausted, stretched to breaking point, and frustrated at the barriers preventing some from providing the continuity of care that they strive to deliver for their communities.
A landmark report into the state of primary care in England confirmed what many general practitioners have observed themselves for several years: Without meaningful change, primary care will not survive in its current state. While the NHS is very much the focus of this article, there are common lessons, learnings, and implications for healthcare worldwide - with several of the challenges facing NHS primary care ever present in other health systems.
Next steps for integrating primary care: the Fuller Stocktake, an investigation conducted by respected primary care leader and GP Dr. Amanda Fuller, has produced a set of practical, creative, and pragmatic recommendations to ensure a sustainable future for general practice and primary care more broadly. While this report focuses primarily on England's primary care system, much of the guidance it offers can be applied to health systems across the developed world.      
As an NHS primary care clinician based in the UK, I very much recognise the story that this review tells, having seen many of the issues it raises firsthand. Clinical and administrative teams are stretched beyond capacity, patients are unable to get the appointments they need when they need them, and blockages in urgent and emergency care mean that those with chronic conditions find their illnesses needlessly deteriorating. The extra workload from secondary care is placing additional strain on the morale, available time, and energy of practice staff.
Although it's a year since the Fuller Stocktake was published, its recommendations are informing developments across England's 42 Integrated Care Systems. The review outlines an achievable vision for a stronger system of integrated primary care. One where it becomes much simpler and quicker for people to access the right care and advice at the right time. 
In order for effective reform to take place, we not only need effective leadership, but we also need the right infrastructure. We need smart tools that enable patients to get the help and information they need as efficiently as possible while allowing a range of primary care professionals – GPs, health visitors, physios, nurse practitioners, pharmacists, and triage nurses – to be proactively and appropriately involved at the right stage of a patient's journey.
Care navigation and streamlining access 
One of the key messages to emerge from Fuller was the need for our systems to streamline patient access to care and guidance. This forces every part of a primary care network to think in different ways about how those in need of help across a range of acuity levels can quickly access the help they need. 
As technology has improved consumers' access to a range of important everyday services (banking, utilities, and travel), we are also beginning to see this filter through into health and care. 
Patients fortunate to be registered with a digitally-enabled GP practice can access their shared, or summary, care records, manage their repeat prescriptions, and book appointments all within the NHS smartphone app. But this is not yet universal, and patients deserve better.  
At Ada, we have been working with a selection of primary care partners, care systems and GP federations to empower patients with a more effective 'front door' – one system that sits across all the main contact points they would regularly use – working in a consistent way to get them the guidance and information they need when they need it. 
Ada's industry-leading symptom assessment system, powered by its Artificial Intelligence (AI) capabilities, helps patients understand their concerns and what they could do. Once a patient has completed an assessment, the care team can then better understand the patient's needs and quickly, accurately, and safely decide how to triage their patient queries and filter them through to the most appropriate point of care. 
For some members of the public, this may mean signposting to appropriate information about low-risk allergies, while others may need to review their medication with a pharmacist. Meanwhile, others may require advice for managing a more acute condition. These patients may represent one of the large cohorts suffering from long-term conditions that account for half of all primary care appointments and 70% of overall health and social care spending.
Patient access that empowers clinicians and care professionals
Since the introduction of a digital 'total triage' approach to primary care delivery (largely as a rapid response to the COVID-19 emergency to expand access to appointments digitally), a large part of the dissatisfaction from patients has centered around an inability to get the right type of appointment for their needs.
From the clinician's point of view, poorly embedded digital triage tools and processes can lead to frustrating inefficiencies and wasted time, a GP's most precious resource. While the technology has collected the necessary information from the patient, a GP can still find themselves needing to take hours out of their day to personally look through these online consultation forms. 
Ada's clinically-built medical knowledge and advanced probabilistic reasoning mean that a more intuitive and intelligent form of condition-based care navigation can help primary care teams better support their patients' needs, saving time and supporting patient access to the most appropriate point of care. 
This can free up a clinician's time as work that they had previously felt required to oversee themselves (personally examining online consultation forms, for example) could be carried out by other trained team members, acting as patient navigators. 
By shifting these responsibilities to other relevant and qualified primary care team members, senior clinicians can reclaim the time they need to provide the valued personalised care they want to deliver and that their patients need.
Improving patient experience and optimising prevention
Meanwhile, a primary care network may have unique requirements. System leaders can set rules within Ada's platform to personalise the care navigation to their unique local specifications. For example, a local area may be at an advanced stage with initiatives to empower community pharmacists to treat a wider range of conditions themselves, with expanded powers to prescribe medications directly. 
They can tailor Ada to navigate appropriate patients toward these specific avenues of care. This functionality makes it much easier to match patient needs with available resources effectively.
Finally, giving clinicians access to a system that provides advanced symptom assessment and high-quality clinical summary reports can provide real value by complementing a GP's medical training and expertise. Helping inform the GP's clinical suspicions, as well as offering other possible conditions for them to consider, has the potential to aid a GP's own diagnostic capabilities.
Through its continually growing medical knowledge, Ada can flag issues or markers of particular diseases that can be used to inform primary care professionals to consider in their diagnosis.
The evidence that we have obtained from the use of the platform across primary care systems in comparable healthcare environments has shown that Ada is able to speed up the diagnosis of less common conditions, including certain types of cancer.
Nobody should pretend that the increased use of remote consultation technology is a silver bullet for improving access to primary care. But deployed as part of a clear strategy towards more effective integration, Ada's AI-based solution can help safely navigate patients to the most appropriate treatment pathway. This is because it's built and designed by doctors, with safety built into every facet.
Ultimately, Ada's functionalities can act as a practical enabler for clinical teams looking to embrace the new approaches to care delivery outlined in the Fuller Stocktake and support future-proof primary care services.
We're committed to providing safe, accurate, and comprehensive medical AI that supports and streamlines primary care and directs patients to the most appropriate care setting for their needs. By doing so, we also work to ensure that every member of a primary care team, from the receptionists to triage nurses, health visitors, pharmacists, advanced clinical practitioners (ACP), first contact practitioners (FCP), Physician Associates (AP), and GPs, have the time and space to provide the best quality of care to their local populations.
As primary care continues to evolve to meet the challenges of the future, we look forward to deepening our partnerships with those working to find creative and practical ways to transform and improve a healthcare resource at the centre of communities up and down the country.