›

›

›
How Ada is responding to COVID-19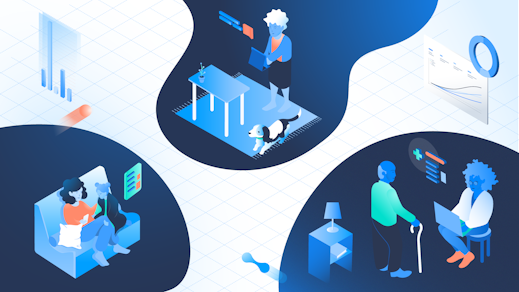 At Ada Health, public health is a top priority, and we are committed to using the latest technology to improve outcomes for patients globally. As COVID-19 continues to have an impact on an international scale, the role that tools like Ada could play in tackling this novel virus has become a topic of conversation in recent weeks. So we want to update our users on how we are responding.
How Ada works
Before I explain how we have updated Ada for COVID-19, it is essential to understand how our technology works.
There are two key components on which the Ada app is based: a probabilistic reasoning engine and a medical knowledge base. Ada's probabilistic reasoning engine takes into account all of the available information from its knowledge base to provide an assessment of the most likely conditions behind a user's symptoms, from which it then suggests next steps in the form of care navigation. It's important to understand that, because Ada's symptom assessment is probabilistic, the outcome of any assessment is always based on both the symptoms entered and the probability of each condition that could present with those symptoms in a user's region. This is why users in different regions of the world, and at different times of the year, will get different assessments from the same symptoms.
Ada's system is updated with the latest medical information and is continually expanded and reviewed by our medical teams, including our specialist Epidemiology & Public Health team. This team, which is made up of experts in the field, closely monitors and reviews the latest information and data on emerging trends and new conditions, and makes recommendations about when and how to update the Ada knowledge base.
How we are updating Ada to respond to COVID-19
Ada is committed to enabling individuals to proactively manage their health. So we are always looking to ensure we are utilizing the most current and up-to-date information and data possible. As Ada is regularly updated with the latest medical information, including on new conditions that haven't been encountered before, we immediately saw the importance of updating our Ada platform with COVID-19.
As expected with such a rapidly evolving situation, the information and data available on COVID-19 remain limited. However, there is steadily growing scientific evidence available, and we believe that it is the responsibility of any healthcare organization to make use of it in the best way possible.
Here is how we have updated Ada's technology to ensure that we are effectively responding to COVID-19.
1 - The knowledge base
Given the growing number of cases and rising concerns around COVID-19 globally, in early February, we began to model the disease in our knowledge base. We started publishing information about the condition on our website and Ada Editorial. Following this, we have been continuously updating the knowledge base as more information and data become available.
In short, this means that Ada has been 'trained' in how to identify COVID-19, and it can now appear as a suggested condition if appropriate when users complete an assessment within the app.
2 - The reasoning engine
The risk factors of a condition have a big impact on how we adapt Ada's reasoning engine. For a virus such as COVID-19, risks include whether someone has been in contact with a confirmed case or has been in an affected area. With the geographical spread of the outbreak, these risk factors have changed dramatically, and we are therefore keeping a close eye on the situation and continuously updating the model according to these changing probabilities and risk factors.
Therefore, as the likelihood of being affected by a condition increases, Ada will rank it as being more likely in its assessments.
At the same time, it is important to note that results for all respiratory conditions are on the rise, not just for COVID-19. COVID-19 presents with symptoms that are similar to those of other diseases, such as flu or pneumonia. These diseases are all common at this time of year, and in general, are still more common than COVID-19. So they will often be suggested as the most likely causes for the symptoms mentioned.
3 - Care Navigation
We have also updated the post-assessment guidance that Ada gives to users regarding COVID-19. This means that if an assessment includes COVID-19 as a possible cause of a user's symptoms, the user will receive appropriate care advice.
We are continually updating this guidance to ensure that it is consistent with relevant global care advice, catering to our worldwide user base. The advice currently focuses on calling ahead before visiting a doctor's office or emergency room to seek further guidance, as well as frequent hand-washing, and self-isolation where possible. For our partners around the world, we are also continuing to adapt Ada's post-assessment guidance to ensure it is up-to-date and consistent with relevant national and local care guidance.
As with all conditions in the Ada app, users can also read about COVID-19 in the condition library to access further information and advice specific to the condition.
What next?
We will continue to monitor the medical and scientific data around COVID-19 closely. We will update Ada continuously to ensure the knowledge base, reasoning engine, and care guidance continue to be as accurate and relevant as possible.
As healthcare workers and governments across the world work to combat COVID-19, we believe that digital health tools like Ada can add the most value by helping users to differentiate between severe and non-severe cases and offering personalized guidance on what the most appropriate care is for each user.
As healthcare systems are experiencing huge pressure, this could be highly valuable from a public health perspective. Given that certain groups and demographics are especially vulnerable to this disease, it will become increasingly essential to guide patients on whether or not they should seek urgent and primary care due to high risk, or if they should stay at home because they are at lower risk. By equipping individuals with relevant care advice tailored to medical history and age, digital health apps like Ada can help patients to make informed decisions about what they should do. If this is accomplishable at scale, it can help to mitigate the pressure placed on health systems and free up healthcare workers to focus on the areas and patients where they are most needed.
Ada is now developing additional capabilities that we believe will play a valuable role during the COVID-19 pandemic: providing actionable guidance to individuals, enabling streamlined access to care through strategic partnerships, and helping to reduce the burden on frontline services. As the situation continues to evolve, we will work tirelessly with new and existing partners around the world to deliver these capabilities at scale.
We will continue to share further updates on our response to COVID-19 on our blog. In the meantime, if you are looking for specific guidance, we recommend that you check your government's official website, which will have a dedicated advice page for COVID-19.