›

›

›
Life at Ada: Celia Brightwell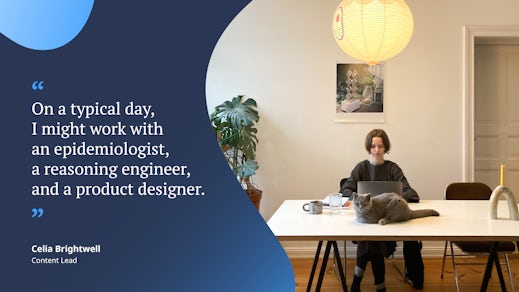 Life at Ada means making the world a little healthier every day, and leaving the world a little better than you found it. We'd like you to meet some of our colleagues and learn how they're improving health outcomes around the globe.
Celia Brightwell, our Head of Content, shares her secret strategy to manage stress. Hint: it involves a purry friend in your lap. She also shares how guidelines impact content creation, and a story about a female astronomer who changed how we understand the universe.
How are you taking care of yourself during the pandemic?
At the start of the lockdown, my housemates and I adopted Albertine. She's like a mobile oxytocin dispenser. I don't know if there's scientific evidence to back this up, but from my experience, it's impossible to feel stressed if you have a cat purring in your lap.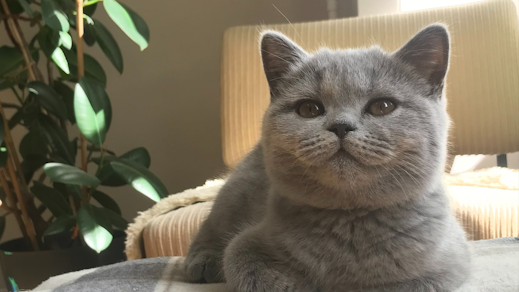 I also started exercising regularly, mostly jogging around Tempelhof and Hasenheide. Between lockdowns, I was riding my bike through the city to one of the lovely offices.
What impact have you made at Ada since you've joined?
Content at Ada can seem unfathomably vast. Thousands of medical conditions, multiple products, 7 languages, users with wildly varying health needs from incredibly diverse health contexts. Recently I've been focused on connecting all content across the company.
A pet project at the moment is working closely with Kirsten, one of our medical experts, on readability editing. We created guidelines together to make condition overviews more accessible. It will help make sure people can easily understand medical information in their time of need.
Accessibility isn't just the right thing to do, especially as a health company. New regulations are on their way for the EU that will make sure private companies have accessible websites.
I'm also working with our UX and product teams on guidelines that connect our brand voice and style guide throughout the user experience. Guidelines are the best way to make a big impact with content. Getting them right helps many teams get content right.
What's your favorite thing about your job?
I'm constantly challenged to learn and improve. The Content Team works with creative challenges like medical nuances, regulatory caveats, localization tactics, and brand requirements. It means there's always something to test or adapt.
Especially during the pandemic, there's been a big emphasis on connecting different areas of expertise at Ada. On a typical day, I might work with an epidemiologist, a reasoning engineer, and a product designer.
And it would be dishonest if I didn't mention the custom Slack emojis.
What innovations are you most excited to see come to life in the next 5 years?
Someone told me about this futuristic screen called VAHA that's basically a fitness mirror. You set it up at home and a personal trainer comes to life in front of you to help you work out. It seems like a corona-friendly invention. I can also imagine, living through the long winters here, it might help people increase exercise if they don't need to leave the house for personal training.
What do you do when you're stuck on a challenge?
I once read that people procrastinate because they don't know how to proceed. That helped me realize when I feel stuck then work out why. Research helps. I have a couple of resources I turn to for guidance, such as Content Design London, Velocity Partners, The Good Copy, and a big bunch of notes from UX writing webinars and conferences I've attended.
What's the best career advice someone has given you?
The best advice came from someone I met through LinkedIn. We met for a coffee at Commonground before it sadly closed forever after Berlin's first lockdown. She explained why it's important to become comfortable working with rapid change. It was immediately helpful for developing a positive mindset.
If you could have coffee with one great scientist from any time, who would it be and why?
I'm going to say the astronomer Cecilia Payne-Gaposchkin, who I discovered through the Stuff you Missed in History Class podcast.
When she was 12, she asked a book binder to make her copy of Plato look like a bible so she could study philosophy. She taught herself German from a dictionary so she could read a botany textbook. She was expelled when she was 17, and ended up at Cambridge then Harvard on scholarships.
At the Harvard College observatory, she used a jeweller's loupe to study photographic plates that documented star spectra. She'd study for days without sleeping and was notorious for not emptying her ashtrays.
Eventually, she discovered:Helium was 1,000 times more abundant than expected.Hydrogen was 1 million times more abundant than expected.
Only after painstakingly going through her work to find the mistake could she admit she hadn't made one. Her PhD is Stellar Atmospheres; a Contribution to the Observational Study of High Temperature in the Reversing Layers of Stars.
The world would be a better place if everyone...
...actively listened.
Over the past 3 years, Celia has defined Ada's voice and helped teams develop a good understanding of content. If you read something about Ada, there's a little bit of Celia in it.
Considering using your skills to improve health outcomes? Check opportunities to join Ada.