Ada launches new collaboration to provide medical advice and care guidance for mothers across South Africa

Ada's intelligent symptom assessment technology has been integrated into MomConnect, a National Department of Health service actively used across South Africa aimed at providing pregnant women with prenatal, during, and post-natal information as well as prioritizing maternal and child health using mobile phones.
Available via WhatsApp, the project, which has received financial support from the Rockefeller Foundation, will enable women and mothers to better understand their healthcare needs and care options, and has the potential to reach as many as 1 million active MomConnect users across South Africa.
Preliminary evaluation of nearly 1,000 mothers showed that 45% of mothers changed their healthcare behavior after using Ada, with 26% of users seeking care after not previously intending to.
Pretoria, Berlin, 5th September 2023 - The National Department of Health in South Africa (NDOH), nonprofit organization Reach Digital Health (formerly Praekelt.org), and global digital health company Ada Health ('Ada') today announce the integration of Ada's intelligent symptom-assessment technology with South Africa's MomConnect Mobile Maternal Health platform via WhatsApp. 
According to a World Health Organization (WHO) report, a woman dies every 2 minutes due to pregnancy or childbirth, and around 70% of all maternal deaths are in sub-Saharan Africa.1 The same report found that women aged 15 and above in low-income countries have a 1 in 49 chance of dying from maternal causes, versus high-income countries where the chance is 1 in 5,300. According to the CDC, most causes of maternal death are preventable, so recognizing warning signs and ensuring access to timely, quality care can save lives.2
South African health systems are overburdened and dealing with a critical shortage of healthcare workers in hospitals, with a ratio of 0.8 doctors to every 1,000 patients in 20223, compounding the fallout from the COVID-19 pandemic. A recent study found that technology could be key to better health outcomes for maternal care by relieving the burden on healthcare systems and improving health equity and accessibility in low- and lower-middle-income countries.4
To help address these issues, Ada's AI-powered symptom assessment technology has been integrated into the South African National Department Of Health's (NDOH) MomConnect platform5 - a national digital health initiative supporting maternal health through mobile technology and integrated into maternal and child health services, for which Reach Digital Health is a key partner. 

Available via the MomConnect HelpDesk through WhatsApp, a first-of-type integration for Ada, this technology helps users to better understand their symptoms through a thorough series of questions based on clinically validated AI and protocols, and based on their responses, navigates them to appropriate and available services and support. Ada's medical knowledge covers an industry-leading range of symptoms and conditions, while the platform itself prioritizes user safety and accuracy and is designed to be as inclusive as possible.
A preliminary evaluation with almost 1,000 mothers from across South Africa6 showed that 99.94% of respondents knew what to do about their health query one week after using Ada. Over 50% of those who received treatment were not planning to seek care before using Ada and subsequently changed their care-seeking decision after completing an assessment. It also shows that Ada's AI assessment effectively guides participants to potentially life-saving care - of those directed to emergency care following an Ada assessment, 55% of mothers who ended up in emergency care were not intending to do so prior to an assessment. The evaluation found that 96% of users considered it easy or very easy to check their symptoms, and 98% considered the medical information provided by Ada useful.
Users involved in the evaluation identified that Ada had helped them understand and take appropriate action on a wide range of health issues, including newly detected cases of hypertension and infections - both highlighted by the WHO as among the main causes of maternal mortality,7 as well as meningitis, miscarriage, urinary tract infection (UTI), vitamin deficiency, postnatal depression, fever, allergy, intrauterine growth restriction (IUGR) and labor. The majority of mothers seeking care after using Ada received treatment in the form of new medication, hospital admission, or even surgery. In these scenarios, care journeys with better awareness and earlier intervention can significantly improve maternal and child health outcomes.
One MomConnect user commented that Ada helped her to understand her health and seek care, saying she was diagnosed with "High blood pressure that almost led to the decision of C-section at 7 months (premature) luckily, I sought help before it late, thanks to mom connect and symptoms checker [sic]." 
To ensure equity and accessibility, Ada's language capabilities have been tailored to support how South Africans describe their symptoms, and the reading level of Ada's medical knowledge adapted to support lower literacy users without compromising accuracy. Ada's condition models and AI reasoning engine have also been optimized to enable more accurate assessments of the most common maternal and pediatric symptoms and conditions in the region. Thanks to its mobile accessibility and ease of use, the initiative has seen particularly strong usage in rural areas with very low access to care, such as Limpopo, and uptake in areas of significantly higher maternal mortality rates, such as the Free State. 
The initiative, which was funded by The Rockefeller Foundation as part of its Precision Public Health strategy8, has the potential to reach as many as 1 million active MomConnect users across South Africa and has the potential for wider integration in South Africa and other countries.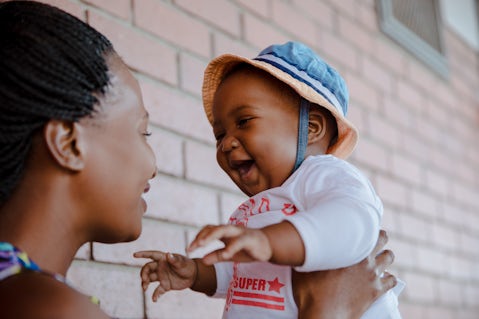 Debbie Rogers, Chief Executive Officer of Reach Digital Health, said, "The need to provide accessible, regular, and accurate healthcare guidance at a time when mothers and children need it most has never been more urgent. Integrating Ada's intelligent health technology with the MomConnect mobile platform has the potential to build on the South African National Department Of Health's aims of providing more equitable care and improving the health outcomes in the region."
Hila Azadzoy, Vice President of Ada's Global Health Initiative, said, "Technology has the power to improve maternal health outcomes by improving access to relevant advice for new and expectant mothers while bolstering existing health systems by alleviating pressure on health services. Ada's AI-powered symptom assessment platform has been adapted to local linguistic, cultural, and healthcare requirements to make it accessible to as many individuals as possible, and we're pleased to be able to rapidly deploy this new service through our collaboration with Reach Digital Health and The Rockefeller Foundation."
Naveen Rao, MD, Senior Vice President, Health at The Rockefeller Foundation, added, "Safeguarding the health and well-being of women and children should always be prioritized, and even more so during a health crisis. Technology offers us an opportunity to reach the most vulnerable with essential health services, and The Rockefeller Foundation is proud to support Ada and Reach Digital Health's innovative approach to making this a reality in South Africa."
About MomConnect
MomConnect is an initiative of the South African National Department of Health in partnership with Reach Digital Health which offers personalized, stage-based health messaging and real-time support to pregnant mothers in South Africa and includes crucial information on breastfeeding to encourage positive behavioral changes and enhance the health of mother and child.  MomConnect has served as a blueprint for similar initiatives throughout Africa and has garnered multiple accolades, including the prestigious Skoll Award. As MomConnect celebrates its 9th anniversary, it continues to exemplify the power of technology in promoting the well-being of mothers and infants across South Africa, and the possibility for families in other low to middle-income countries. 
About Reach Digital Health
Founded in South Africa in 2007, Reach Digital Health, formerly known as Praekelt.org, harnesses the power of communication between patients, health workers and the health system to ensure that patients are informed and empowered, health workers are supported and valued, and health system officials have the information they need to make informed and effective decisions to improve service delivery and quality. 
To date, Reach Digital Health's services have reached over 100 million people in over 65 countries and have been adopted by 11 ministries of health in Lower and Middle-Income Countries. To learn more, visit www.reachdigitalhealth.org.
About Ada Health
Ada is a global health company founded by doctors, scientists, and industry pioneers to create new possibilities for personal health and transform knowledge into better outcomes. Its core system connects medical knowledge with intelligent technology to help people actively manage their health and health systems to deliver more effective care. 
Ada's technology is available to tens of millions of users around the world through Ada's free consumer app and through enterprise partnerships. Find out more at www.ada.com.
About The Rockefeller Foundation
The Rockefeller Foundation advances new frontiers of science, data, and innovation to solve global challenges related to health, food, power, and economic mobility. As a science-driven philanthropy focused on building collaborative relationships with partners and grantees, The Rockefeller Foundation seeks to inspire and foster large-scale human impact that promotes the well-being of humanity throughout the world by identifying and accelerating breakthrough solutions, ideas, and conversations.