Our Global Health Initiative
Four billion people, more than half the global population, lack access to basic health services. The disadvantages of this global health challenge are disproportionately experienced by people in low- and middle-income countries (LMICs). Our Global Health Initiative contributes to the United Nation's Sustainable Development Goals by using Ada's technology for global good. We welcome partnerships with local NGOs, LMIC governments, and global health organizations to help us increase access to personalized health information and improve primary healthcare delivery for those who need it most.
The global health challenge
Half the world lacks access to essential health services

7 million health worker global shortage

40% live in rural areas in developing countries

.05 psychiatrist per 100,000 people in LMICs
Digital health opportunities
42% in LMICs owned a smartphone in 2017

$30 billion US annual investment in digital health by 2020

21.2 million community health workers by 2030

$2 US per capita, per year to improve LMIC mental health
Our focus areas
Global data insights
Ada produces real-time population insights through aggregated, anonymized patient data. As Ada rapidly becomes the world's personal health companion, this data serves as a magnifying glass for policymakers to anticipate public health needs, identify trends, and control outbreaks.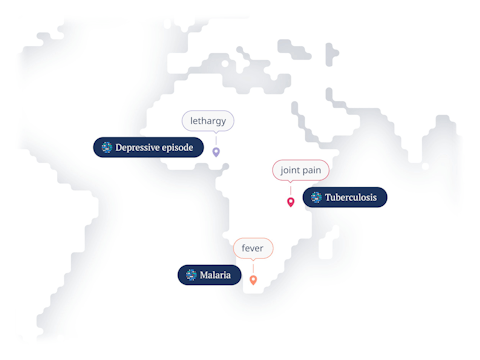 Our community
We invest in AI as a scalable solution to the global shortage of health workers and the urgent need for improved child and adolescent health. Our partnership responds to this need in East Africa and Romania, creating impact for adolescents and insights for Fondation Botnar and Ada to expand this innovative approach to other low- and middle-income countries.
Dr. Stefan Germann, CEO Fondation Botnar

Partner with us
There are many ways we can work together to create positive impact for vulnerable populations. Fondation Botnar and the Bill & Melinda Gates Foundation already support our work. If you would like to join us in increasing access to personalized health information and improving primary healthcare delivery for those who need it most, please contact our Managing Director, Global Health Initiative Hila Azadzoy:
Learn more