Clinical excellence that withstands scrutiny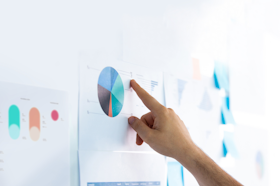 All health technology companies advocate their best-in-class solutions. 
Objective research, peer reviewed and published by the scientific community, helps people distinguish between claims and clinical evidence to judge for themselves. 
Industry benchmarking allows health companies to compete. Scientific scrutiny allows them to lead.
Peer-reviewed studies and publications in collaboration with Ada
Patients' utilization and perception of an artificial intelligence based symptom assessment and advice technology in a British primary care waiting room: Exploratory pilot study.

Findings

Ada performed well in a study of 523 patients in a primary care setting.
Ada was rated very or quite easy to use by 97.8% of participants.
With Ada's advice, 12.8% of participants would have used lower-intensity care or delayed their appointment.

Rare diseases 2030: How augmented AI will support diagnosis and treatment of rare diseases in the future.

Findings

Within the next decade, specialists may work closely with tools like Ada to simplify the rare disease care journey.
Ada could support detection of genetic autoinflammatory disorders such as familial Mediterranean fever.
Chatbots ask for red flag symptoms to exclude emergencies.

Can a decision support system accelerate rare disease diagnosis? Evaluating the potential impact of Ada DX in a retrospective study.

Findings

Ada's top suggestion matched the confirmed diagnosis in 89.25% of cases (83 of 93 cases).
In more than 56% of cases, Ada provided correct disease suggestions earlier than the time of clinical diagnosis.
With Ada, more than 33% of patients could have been identified as having a rare disease in the first documented clinical visit.
Conference posters and preprints of studies, by or in collaboration with Ada, submitted for peer review
Peer-reviewed papers and preprints in third-party publications that analyze or discuss Ada
Preprints of studies and publications by or in collaboration with Ada
The quality of condition suggestions and urgency advice provided by the Ada symptom assessment app assessed with independently generated vignettes optimized for Australia.

Findings

Ada's top condition suggestion was correct in 65% of cases, and the correct condition was in the top 3 in 83%.
Ada's urgency advice matched the gold standard in 63% of cases, including 67% of urgent cases and 57% of those less serious.