Integrate solutions your users already love
We've helped 10 million people by making the right healthcare decisions easy. We can help you too. Get powered by Ada with our enterprise solutions, combining world-leading clinical excellence in AI and seamless UX.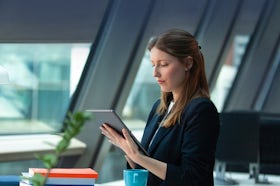 We work with
Healthcare systems and providers | Insurers | Payors and commissioners | Life sciences | Employers | Governments | Non-profits
Assess
Give your users a trustworthy health assessment and seamless experience within your digital network.
Supports clinical accuracy with the most comprehensive condition coverage
Provides trusted health answers within minutes
Enables proactive health management
Secures patient privacy and confidentiality
Classifies care urgency with 8 advice levels
Request details
Connect
Help your users choose the right clinical or virtual care services with customizable care navigation.
Provides 24/7 health guidance and appointment booking
Increases engagement with telehealth and virtual care
Helps avoid under and over triage
Improves loyalty within your systems and network
Directs people away from unnecessary care
Request details
Handover
Securely transform users' assessment reports into your medical professionals' IT system with our adaptive interface.
Gives medical professionals more informed time with patients
Integrates with your systems
Reduces administrative burden
Simplifies care journey
Helps patients only tell their story once
Request details
COVID-19
Manage care demand and supply during the pandemic with our free customizable integration.
Supports companies' pandemic response in 8 countries
Identifies risk factors that impact symptom severity
Indicates COVID-19 likelihood 
Suggests safe and sensible next steps
Guides users in English, German, Arabic, Spanish, Italian, Portuguese, and Indonesian
Integrate free solution
Your trusted partner for clinical excellence in AI
AI developed by doctors for the medical setting
Continuously optimized based on 20 million health assessments
Integrates seamlessly with your infrastructure
Complies with relevant medical device safety, effectiveness requirements, and data

security standards

– HIPAA, MDD, GDPR, ISO 27001, and BiM Badge
Ada supports patients from the first onset of their symptoms. How many patients wait on the phone to talk to a nurse or send an email to their doctors asking if they need to come in for a health issue? With our busy schedules, who has the time to take time off work only to be told they did not need to be seen? When you do need care, Ada can direct patients to the appropriate place — for example, a walk-in clinic around the corner from their house rather than a long wait at the emergency department across town.
Albert Chan, MD Sutter Health Chief of Digital Patient Experience
Let's improve health and care together.