Getting medics back to hospital faster with smooth COVID-19 tests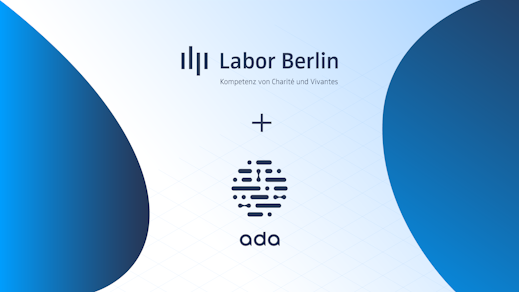 Pandemic partners: how Labor Berlin and Ada gave 5,000 people a better COVID-19 testing experience
Whether positive or negative, COVID-19 test results are having a critical impact on global pandemic responses. A positive result helps epidemiologists contact trace, and contain an outbreak cluster. For medical professionals working on the front line, fast and accurate testing to confirm they're COVID-19 negative is essential.
So when Xenia, a medical assistant working in prenatal diagnostics and therapy at Germany's largest hospital, the Charité Berlin, needed to get herself tested, she wanted to know how quickly she could get back to the hospital.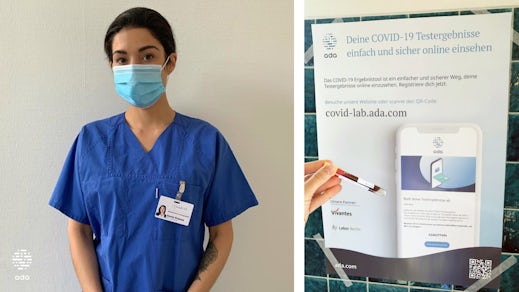 When Xenia arrived at the test facility, a nurse asked if she'd like to register using the COVID-19 lab results tool, developed by Labor Berlin and Ada. Five minutes later, following the simple registration process, she received her private ID by email. Within 12 hours of having her sputum (mucus found in the mouth) sample taken, she used that same ID to access her test results online.
In those 12 hours, Xenia's sputum sample was transported to the Labor Berlin laboratory, where Nina Beikert's team analyzed the results. Labor Berlin is a subsidiary of the Charité and Vivantes hospital groups and regularly appears in Germany's rank of top 100 innovative companies.
Nina first met our Chief Scientific Officer, Dr. Hirsch, at a 2019 Labor Berlin industry event where he spoke about how AI affects the patient-clinic relationship. One year and a pandemic later, the potential for Ada and Labor Berlin to create a better COVID-19 testing experience for patients was clear.
How did Labor Berlin get closer to patients during an era of physical distancing? Strong relationships between patients and their health service providers, during a pandemic and always, are built on experiences that leave people feeling safe and confident. A smooth user experience helped patients get their results online and understand what those results meant.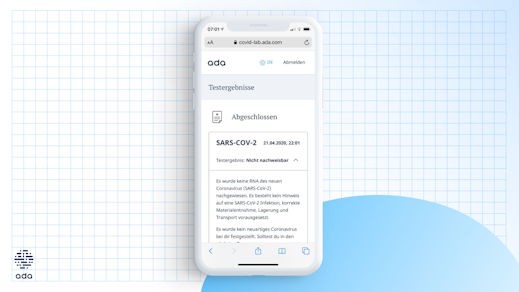 For Xenia, the results are in – it was a positive experience that makes managing her health while working on the frontline during the pandemic a little less stressful.
Keep reading. Take 4 minutes for our collaborations with global healthcare organizations, 6 minutes for our pandemic response, and review enterprise solutions that could help us improve health and care together.