Nine experts on the trends that changed healthtech in the last decade, and the innovations to expect by 2030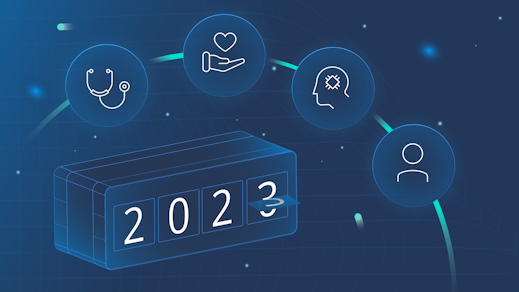 This article was originally published on Forbes.
As we enter 2020, it seems like a good moment to reflect on how technology has reshaped the way we think about, and deliver, healthcare in the last 10 years, and to look forward to the innovations that might transform our sector in the decade ahead.
I asked some of my peers to share their views on the biggest developments in digital health during the 2010s, and their predictions for what the 2020s will bring.
Here are their thoughts, starting with the retrospective…
Three healthtech trends that defined the 2010s
1. Improved access to healthcare for consumers
Sophie Chung, CEO and founder of Qunomedical picked out the rise of the smartphone as a critical moment for personalized health:"By having a pocket-sized electronic device equipped with sensors and the potential to track and communicate with each user individually, mobile technology has personalized medicine."
Similarly, Elena Mustatea, CEO of Bold Health, saw the rise of telemedicine, enabled by the proliferation of smartphones, as the biggest step forward:
"Telemedicine has opened the path for real digital transformation in healthcare by connecting the patient with a trusted healthcare provider online, opening our imagination to the possibility of accessing all sorts of health services online, from consultation to pharmacy, to diagnosis and digital treatment."
And James Wise, partner at Balderton Capital, highlighted greater smartphone access as one of the two the most symbolic events for healthtech in the last decade:
"Both came in early 2015, when the costs of sequencing a full human genome fell below $1,000, and the cost of a smartphone fell below $100. The first breakthrough meant that for the first time genomic analysis could really be used at scale, unlocking a new world of data and diagnostic options for millions of patients. The second meant billions more people could suddenly be connected to the web, which is just starting to transform the way people can access health information and care across the globe."
2. AI was recognized as a genuine game-changer
Hamish Grierson, cofounder and CEO of Thriva, believes that AI was the biggest step forward in healthcare this decade:
"We've seen nothing short of a revolution in the way we're able to augment the capabilities of a physician using artificial intelligence. These advances, of course, wouldn't have been possible without the concomitant development of computational processing power, cloud-based computing and a cultural evolution (albeit a slow one) that's embracing and testing new technologies."
Similarly, Maneesh Juneja, of MJ Analytics, called out the development of AI chatbots:
"Whether for symptom checking or for providing mental health support, chatbots are forcing us to consider new on demand models of care, in an era where it can take a long time to see a human healthcare professional."
Whereas Hugh Harvey, managing director at Hardian Health, highlighted a different area of AI; the steps forward in "computer vision" machine learning:
"We have seen an incredible amount of exciting research leading to commercially viable products… from radiology scans, to pathology slides, pictures of skin lesions and the back of the eye. In just a few short years, we have seen this tech go from bench to bedside, and this decade will be remembered as having given birth to this technology."
3. Health records were (finally) digitized
John Pissanos, healthcare investment banker at J.P. Morgan focused in on a change that is perhaps less obviously ground-breaking, but that can enable so much more innovation - electronic health records:
"The increase in both the digitization of patient health records like EHRs and the connectivity of previously siloed health data was probably the most fundamental healthtech development over the last decade. A lot of potentially serious health issues can be dealt with more effectively if comprehensive, transparent and easy-to-access data are made available for healthcare providers when they deal with patients, as well as acting as an enabler for the more innovative data analytics related developments we see today."
Although, as Hugh Harvey pointed out, a lot more work is required here:
"While EHRs have seen almost 100% uptake in some countries, enabling digital medical documentation, it is also cited as the number one cause of clinician frustration and burn-out. It's been a blessing and a curse, to put it mildly."
Six predictions for healthtech in the 2020s
1. Healthcare will become more user-centric
Looking forwards, Uwe Horstmann, General Partner at Project A Ventures, thinks we will see healthcare systems taking an increasingly "user-centric approach" in the 2020s, in both developed and lower and middle income countries:
"In many developed health care systems we see increased "consumerization," taking a user-centric approach to make the experience for patients more pleasant, and paradoxically also more "humane," while at the same time more effective and at a lower cost. I'm excited to see this trend extend to people who didn't have access to affordable quality healthcare before at all."
2. Open door for Big Tech
And Hamish Grierson believes that the growing focus on user-centricity will be what allows a certain techgiant to make a real impact on healthcare:
"It's universally agreed that a one-size fits all approach to health or well-being is coming to an end. And it can't happen soon enough. Who's going to innovate around this reality? I'm going to steal from the excellent Prof. Scott Galloway and suggest that one key player is likely to be Amazon. To truly reshape and drive costs out of the incumbent healthcare systems (especially in the States), you need to be strong in big-data, operations, customer-centricity, pricing efficiency and, of course, medicine. The latter can be learnt. The former, Amazon has in spades already. Look out for an Alexa in your home, offering you cheaper health insurance soon."
3. Consumers will be empowered to manage their health more proactively
Elena Mustatea thinks that this decade will see patients taking charge of their own health and well-being more than ever before:
"In the next decade patients will be able to monitor their health and intervene digitally with the help of digital therapeutics for chronic care. Mind body medicine will continue to expand in day-to-day wellness practice (started by the wave of mindfulness and behavioral health apps we saw in the 2010s), while the medical version of it, digital therapeutics, will enable patients to access evidence-based, doctor-endorsed therapies and self-management support for their chronic illness immediately, digitally, where drugs cannot represent the entire answer to care."
Stephanie Kaiser, cofounder and managing director of Heartbeat Labs agrees, but only if wearables and apps start to deliver genuinely actionable insights:
"Patients need to see more actionable insights to make informed decisions on actual problems and needs… We have apps for almost anything out there already, but the ones solving actual personal health needs with actionable insights are rare and there will be more of them for sure in the near future."
4. Doctors will be able to focus on where they can truly add value
Stephanie also predicts that, as technology evolves to take on some of the more repetitive tasks, it will allow doctors to focus more on the human in front of them, and less on the processes and paperwork:
"Over the next decade, machines will take over what machines are best at. Repetitive tasks that don't necessarily need human interaction. This will free up doctors to spend their time on what they are best at: dealing with a patient in need with human interaction, empathetic communication and actual human touch."
5. Greater interoperability will open up new uses for data
Data analytics is not new of course, but Hugh Harvey believes that the next decade will see real progress made in the way that health data is standardised and structured:
"With all of this talk of machine learning, it will be the interconnectivity of structured, standardised health data that will be the main focus over the next decade. A lot of potentially serious health issues can be dealt with more effectively if comprehensive, transparent and easy-to-access data are made available for healthcare providers when they deal with patients."
Sophie Chung echoes this sentiment and predicts that greater interoperability will be the key to creating a true "platform economy," as we've seen in other industries:
"What healthcare is lacking is a place where data and information is being aggregated and offered to the end user, i.e. the patient, in a way that helps us make smarter, faster and better healthcare decisions."
6. Widespread gene editing will become a reality
Building on his earlier point about the widespread access to genome sequencing, Balderton's James Wise sees genetics as a major area for innovation in the 2020s:
"The arrival of widespread gene editing techniques like CRISPR, and the roll out of more powerful machine learning software, will be two of the most influential changes in the health sector over the next decade. These breakthroughs mean that we can use new software techniques to better understand the role of the genome, and ultimately to help us not just diagnose but cure patients using gene editing."
The future is upon us
In many cases, what happens in this decade in healthtech will make or break the promises made by our industry in the 2010s. Personally, I think next 10 years will be a hugely exciting time for technologists, clinicians and patients and I cannot wait to see how digital health will transform our lives between now and 2030.