Scaling care resources for smart care-seekers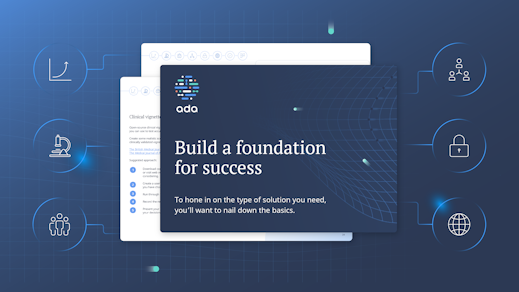 I've noticed a critical change in how people seek healthcare. When I started working as a primary care clinician in London 9 years ago, it was simpler: "I don't feel well. I'm not sure if I should bother the doctor or how long I should leave it." The pandemic has accelerated widespread uptake of digital healthcare alternatives from more independent care-seekers. 
Now, it's more like: "I don't feel well. Where can I learn more? Which type of doctor should I see? When should I see them? What's the easiest way to see them? Do I even need to see a doctor?" 
Delivering for the care-seekers of tomorrow
Care-seekers know about today's healthcare options, but lack the medical knowledge to understand their symptoms and where to go. What they do expect are convenient, connected, personalized care experiences. Clinically driven technology plays an important role. 
As Medical Director of Enterprise at Ada, I've seen health organizations underestimate care-seekers by integrating a simplistic decision-tree symptom checker and using that to guide care navigation advice. As my dad would say, it's a false economy. 
On the surface, such a tool may meet the organization's ambition to digitalize care navigation. But it doesn't meet today's care-seeker needs and expectations for highly personalized medical guidance. So, they don't experience more positive care journeys and outcomes, and subsequently don't use it. They either disengage with care, or wind up at the wrong care setting. 
Considering a medical AI partnership?
If you're reading this during your due diligence process to select an AI-based symptom assessment and care navigation partner to improve care and resource efficiency, then you'll already know there are several good options. Choosing the right supplier and technology for your needs is essential. 
Successful medical AI health system partnerships that deliver demonstrable value help advance the entire digital health industry, and ultimately will improve outcomes for all. So, several colleagues and I put our heads together (1.5 meters apart, of course) to help you make the right decision the first time – even if you don't choose Ada. Access the white paper: AI symptom assessments and beyond.
Assessing your options
The white paper will help you prioritize what matters to ask prospective partners essential, occasionally challenging questions. It covers setting the foundations for success, measuring medical quality, delivering great user experiences, aligning vision and values, maintaining regulation, and planning for the future. 
You'll also find links to independently created clinical vignettes to help you thoroughly test solutions before you decide (though we still encourage you to create your own) and a checklist for easy reference.
Of course, we're quietly confident that our solutions deliver the highest accuracy, the best user experience, the smoothest integration, and the most robust clinical governance. Whatever you do: raise your expectations of medical AI. Your users will thank you. 
I hope it helps. If you have any questions along the way, just get in touch.