The Challenges Of Combating Rare Diseases - And Five Innovations Making A Real Difference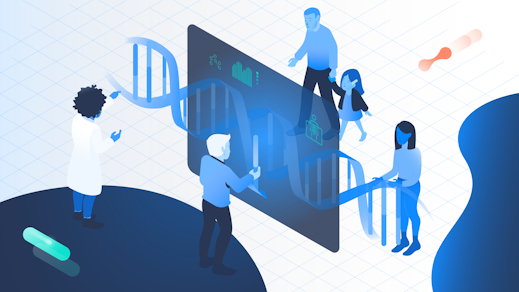 This article was originally published on Forbes.
February 29, 2020 is Rare Disease Day, an annual event that aims to raise awareness amongst the general public and decision-makers about rare diseases and their impact on patients' lives.
I've seen first-hand the difficulties that patients with rare diseases can face. In my first week as an NHS geneticist, I met a child who, despite seeing highly specialised doctors for over a year, had not yet been diagnosed because their symptoms, findings and lab tests matched no known disease. It was only after trawling medical databases and case studies that I was able to find the likely diagnosis, subsequently confirmed. The disease was so rare that naming it here could identify the patient.
Rare Disease Day, established in 2008 by the European Organisation for Rare Diseases (EURORDIS), has helped to amplify the great work being done by patient associations, which are supported by international and national organisations such as EURORDIS and NORD, to bring together those who suffer from rare diseases and empower them to drive positive change. Recently, this issue has been put in the spotlight by Dr. Lisa Sanders's New York Times column and a Netflix documentary series. However, rare diseases still receive much less attention than other medical challenges.
In this piece, I want to examine why this is, and look at the innovations that are helping to bridge the gap.
Individually rare but collectively vast
A disease is considered rare in the EU if it affects fewer than 1 in 2,000 people, and in the U.S. if it affects fewer than 200,000 people overall. Today, there are up to 10,000 recognised rare diseases, with new ones being discovered all the time. Of these, the vast majority—around 80%—are thought to be genetic.
Although individually uncommon, collectively rare diseases affect a huge number of people—roughly 350-400 million people worldwide, or between 5-10% of the world's population.
What's more, these figures only include reported cases. Rare diseases are difficult to diagnose—as my experience as a geneticist proved—and because the medical knowledge necessary to identify uncommon diseases is not accessible to everyone, there will be many more patients living with rare diseases that haven't been properly identified.
For patients, the journey to an accurate diagnosis is bleaker than any number can reflect. It frequently takes years and many consultations and tests (by some estimates 6 years and 7.3 doctors on average), during which time they are passed from doctor to doctor, spending weeks and months waiting for appointments, tests, and test results. Ultimately, every week spent waiting could be a lost chance to flourish and develop in life.
With so many people affected by rare diseases, we have a duty to do everything we can to identify and tackle them. There is also a strong economic case to make: if we can accelerate this process we will not only prevent a lot of suffering, we will also significantly reduce the costs incurred by healthcare providers during the diagnostic process, as well as those incurred when someone is given the wrong treatment following a misdiagnosis (which can in itself subject patients to unnecessary side effects), freeing up resources that can instead be invested in better treatment and prevention. However, solving this issue is a complex challenge.
The three main barriers to research and development
To tackle any disease requires sustained research and development (R&D), to help us learn more about it, and to create effective treatments. However, when it comes to R&D around rare diseases, there are three key challenges which ultimately impact patient outcomes.
The first challenge is how unevenly spread rare diseases are among populations. We don't have a complete picture of how many people are affected by rare diseases because certain countries and populations don't keep as comprehensive records as others, meaning data is incomplete and lopsided. When you consider the estimate that 85% of rare diseases affect one person in every million, and 80% of people have one of 150 conditions—most of which are clinically dissimilar and require unique treatments—it then becomes more difficult knowing which ones to prioritise.
Another challenge is funding. Because rare diseases affect a small number of people relative to cancer, cardiovascular disease, and diabetes, they are often considered lower priorities when it comes to allocating funding. As a result, they are generally underserved by drug development and so the drugs needed to treat rare diseases are designated as Orphan Drugs—which essentially means that they treat medical conditions so rare that it would not be profitable to produce and develop them.
This is unfortunate but understandable in terms of the market forces. Developing a new treatment or drug can be hugely expensive, so we need to find other methods if we are to find effective treatments for conditions that might only affect a few thousand people globally. While Orphan Drug initiatives—such as the U.S.'s Orphan Drug Act of 1983—have created significant incentives for pharmaceutical companies to specialize in rare diseases, delivering hundreds of new drugs to market, they have created a pricing crisis which means these drugs can be hugely expensive for patients. We therefore need more cost-effective solutions that also overcome the many other challenges associated with R&D in rare diseases now the market has changed.
Conducting clinical trials for rare diseases can be equally challenging. These trials are vital to show researchers what does and doesn't work, but it can be extremely difficult to recruit the required number of test cases for them when there are so few patients that could participate. This makes it very hard to get reliable results from clinical trials for rare diseases and means they can cost hundreds of millions of dollars and take years to complete. The challenges with clinical trials mean the post approval follow-up process takes on an even greater role, in order to ensure that drugs are working effectively and are adequately meeting patients' real-world needs after they have been approved.
These are complex challenges and they can at times seem intractable. However, there are a number of new approaches and technologies that could bring about a real step-change in our ability to combat rare diseases.
Five innovative solutions to rare diseases
Technological advances, developments in medical research, improved data analytics, and new ways of thinking about drugs are all providing some hope in the battle against rare diseases.
AI is helping in a number of ways, with one of the most promising applications focused on finding new uses for existing drugs. While AI has so far been applied in this way to common health problems, it is now being applied to rare diseases. In this field, where it can be difficult to get investment to develop new drugs, this could be hugely powerful. Most recently, the co-creator of Viagra—a popular example of a "repositioned" drug—has turned his focus to rare diseases with his new company, Healx.
AI is also being used to improve the diagnostic process. Last year, Microsoft teamed up with Japanese drug maker Takeda and EURORDIS to find new solutions for tackling rare diseases in children, finding a case for using multifunctional machine learning to recognize symptom patterns. With the goal of providing faster diagnosis, machine learning algorithms were used in pilots to link subtle symptoms together and flag possible rare diseases in children in a group of Spanish hospitals. AI tools such as this can augment doctors' knowledge and be integrated into existing health systems to provide vital support at scale.
New epidemiological and clinical trial methods have also been developed that promote more efficient and effective research into rare diseases. For example, researchers have developed new statistical analysis methods to examine results from clinical trials in a way that compensates for small test pools, and have even developed new ways to frame their trials so they are able to attract more patients. This could help make it much easier and more affordable to run clinical trials for rare diseases.
Improvements in the precision of genetic testing and the clinical use of genome sequencing are now also speeding up diagnosis of rare diseases. With lower costs, they are becoming more widely available, and a recent study even suggested that this is leading to a paradigm shift in public health towards what it called "precision public health". This is enabling clinicians to screen for rare diseases much earlier and leading to better outcomes overall, possibly reducing the lengthy journey to an accurate diagnosis.
Finally, technology is also empowering rare disease patients. The internet has democratised access to information, leading to a shift in the traditional information asymmetry between experts and patients. Patients can now become true experts in their own disease and there are many examples of people tracking down a diagnosis themselves through online search, accessing online journals, social networks, and other online communities and tools.
Empowering rare disease patients is also a focus of the Chan Zuckerberg Initiative—founded by Facebook's Mark Zuckerberg and his wife, Priscilla Chan, to further developments in science and education. The initiative has committed to funding 30 patient groups to build a model for tackling rare diseases. A recent study found that these kinds of patient-led groups and support networks are essential to sufferers of rare diseases, who would otherwise feel isolated—and such groups are thriving in the age of the internet. This approach would help to tackle the funding challenge while also addressing the need for more patients in clinical trials.
A rare opportunity
Together, these innovations have the potential to be much more than the sum of their parts, promising a future where fewer rare diseases—and patients—slip through the net, as is too often the case today. Until then, as an ecosystem we must continue to support the individual improvements being made in each area, while ensuring there is the proper cross-collaboration between disciplines, towards the common goal of tackling rare diseases for good.
Have you seen an example of innovation being used to tackle rare disease? If so, please let me know on Twitter @clairenovorol.