Ada Health launches free global COVID-19 assessment and screener in response to coronavirus pandemic
Amendment 30 June 2021: We have fully integrated the COVID-19 condition model, including vaccination side effects, into Ada's consumer app and enterprise solutions. Therefore, the standalone COVID-19 screener and embed code are no longer available. To find out more about our enterprise solutions, visit https://ada.com/enterprise/
New COVID-19 assessment and screener is designed to help people identify and understand COVID-19 symptoms and guide them on appropriate next steps 
Ada Health provides a rapidly deployable, scalable global solution that can also be customized to meet the needs of partners' specific countries, populations, care offerings and health systems
The solution draws from best practice guidelines and recommendations of renowned health institutions such as the World Health Organisation (WHO), Germany's Robert Koch Institute, the UK National Health Service (NHS) and the US Center for Disease Control and Prevention (CDC)
Future iterations of the product will have the ability to integrate with full Ada symptom assessment, personalized guidance and customizable care navigation
Berlin/London, 1st April 2020: Ada Health, the global health company behind the AI-powered Ada symptom assessment platform, today announced the release of a new COVID-19 assessment and screener available on the Ada Health website. The new solution is free to use as a web app, is complementary to Ada's main assessment, and can also be easily embedded by partners, health systems and care providers to support their ongoing COVID-19 efforts.
The solution will be regularly updated, and future iterations will enable users to receive more personalized and regionally-specific guidance, advice and care navigation. It is currently available in English, but will be made available in French, German, Italian, Portuguese, Spanish, Arabic and other languages in the coming days.
Ada Health's COVID-19 assessment and screener combines the latest medical knowledge with best-in-class guidance from the WHO and a wide range of national guidelines to provide a comprehensive, rapidly deployable solution that will serve the needs of millions worldwide. The user experience and design is modelled on Ada's tried and tested consumer-facing symptom assessment and care navigation applications, which have to date been used to complete more than 18 million assessments globally. The new solution will enable individuals to: 
Assess their symptoms: Users can understand their risk of having COVID-19 based on an assessment of their symptoms and risks, as well as their exposure risk
Receive guidance on next steps: The solution provides personalized guidance on what to do next, based on an individual's symptoms and risk of suffering a more serious form of COVID-19
Stay informed and manage their health: Users receive advice on self-monitoring at home, and access to the latest global COVID-19 information
By offering users access to high-quality healthcare information and guidance, Ada aims to ease the immense pressure being put on health systems so medical professionals worldwide can focus their support on those in most urgent need, while also enabling users to better understand their own symptoms from home.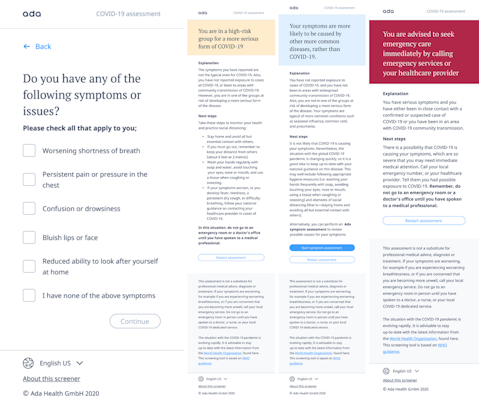 The COVID-19 assessment and screener uses a detailed question flow with a strong foundation in WHO guidance and best practice recommendations from around the world, including the Centers for Disease Control (CDC), the National Health Service (NHS), the Robert Koch Institute, and European Ministries of Health. The solution will be kept updated according to appropriate national, regional and partner guidelines to ensure a screening offering that is globally applicable, but that can also be rapidly customized to the specific circumstances of partner organizations' regional needs such as directing to relevant services and resources. 
The Ada team has focused on ensuring the questions and guidance is comprehensive and user-centric, covering the factors that current medical consensus deem the most important. Users are asked questions around major and minor symptoms, serious symptoms that can indicate a medical emergency, possible exposure to the virus, and risk factors for more serious forms of the disease. The user is then presented with recommended next steps, guiding them towards global WHO guidance, suggesting that the symptoms entered are not likely to suggest COVID-19, or offering customized partner care navigation options if being embedded by a partner.
Dr. Andreas Gilsdorf, Director of Epidemiology and Public Health at Ada Health, and former Deputy Head of the Department of Infectious Disease Epidemiology at the Robert Koch Institute, said:
"We learn from every outbreak to be better prepared for the next. What is really different with this pandemic is the speed not only of the spread of COVID-19, but also of the growth of knowledge of the virus and the impact of the measures against it. Scientists and countries are coming together to share evidence and insights in real-time, allowing others to rapidly adapt their measures accordingly. By tracking these new insights closely and analyzing, synthesizing and curating global best practices and medical knowledge alongside Ada's anonymized, aggregated health data, we believe we can contribute to tackling this pandemic."
Dr. Claire Novorol, co-founder and Chief Medical Officer at Ada Health, said:
"COVID-19 is a serious and rapidly-evolving healthcare challenge. At Ada, we believe that digital health solutions can support by providing actionable guidance to individuals and helping to reduce the burden on frontline services. This is a time when those things are very much needed. We have established a dedicated team to work on the challenges presented by COVID-19 and are focused on using our medical and technological expertise to create high-quality products that can have a real impact on health systems and users, and that can be customized and scaled rapidly. This solution is only the beginning and we'll be continuing to innovate and work closely with health systems and partners to understand and address care requirements as this unprecedented situation evolves."
About Ada Health
Ada is a global health company founded by doctors, scientists, and industry pioneers to create new possibilities for personal health. Ada's core system connects medical knowledge with intelligent technology to help all people actively manage their health and medical professionals to deliver effective care. Ada is proud to collaborate with leading health systems and global non-profit organizations to carry out this vision. The #1 medical app in 140 countries, 18 million assessments have been completed since its global launch in 2016. To learn more, visit https://ada.com.